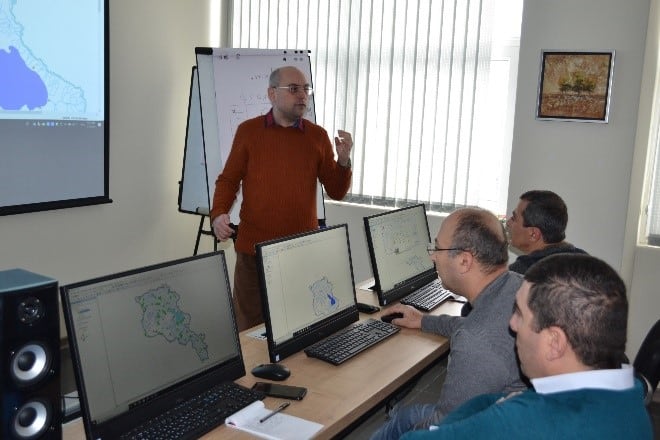 ASPIRED Builds the Capacity of Armenian Water Specialists in State-of-the-Art Technologies
A state-of-the-art new method to calculate ecological flow in Armenian rivers—developed through the USAID-funded Clean Energy and Water Program (CEWP) in 2015—and adopted by the Government of Armenia last year was the focus of a recent two-week training program.
The USAID-funded Advanced Science and Partnerships for Integrated Resource Development (ASPIRED) project conducted the in-depth training Jan. 14-25, 2018, on estimating the ecological flow values for water use permitting and compliance assurance at the request of the Water Resources Management Agency within the Government of Armenia's Ministry of Nature Protection.
The course was designed to combine theory and practice to be a useful learning experience for the participants: specialists from various divisions of the Government of Armenia's Ministry of Nature Protection, Ministry of Agriculture, and the Inspectorate for Nature Protection and Mineral Resources. Starting from a general overview of data management, GIS systems, and general hydrology, the course gradually expanded to the method of determining monthly and annual ecological flow values of both studied and unstudied rivers of Armenia. Arpa River was used as an example.
Participants received the user manual, the template file in Microsoft Excel, and the geodatabase (the GIS files) needed to calculate ecological flow.
At the end, participants thanked the ASPIRED project for putting together a comprehensive and very interactive course that equipped participants with new working tools and skills. During the certificates award ceremony, Christine Khanoyan from the Ministry of Agriculture noted, "I would like to use the opportunity to say big thanks to the trainers who did an incredible job delivering the content and answering all questions with patience. I am excited to implement the new knowledge into my work."
ME&A implements the ASPIRED project for USAID and previously implemented CEWP, the USAID program that developed the new method for calculating ecological flow in Armenian rivers in 2015. Also started in 2015, ASPIRED is designed to support sustainable water resource management and sustainable practices of water users at the core of the water-energy nexus through the use of science, technology, innovation and partnerships approaches. The goal is to reduce the rate of groundwater extraction in Armenia's Ararat Valley to sustainable levels. ASPIRED is a task order under the USAID Water and Development Indefinite Delivery Indefinite Quantity Contract.