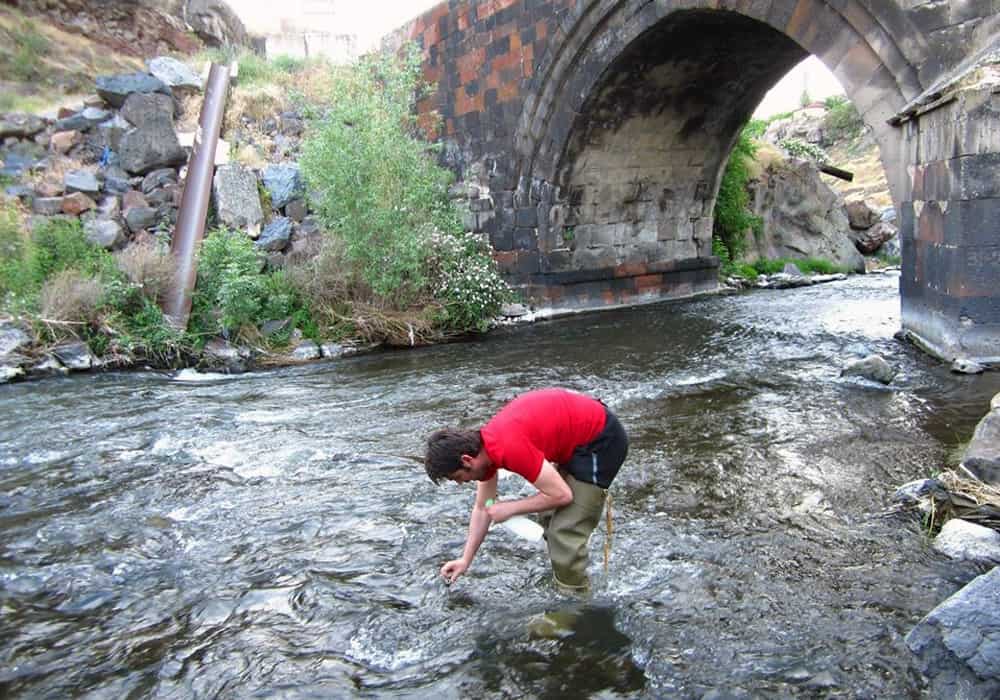 ASPIRED Works with Ministry of Environment to Protect Armenia's Water Resources
The USAID-funded Advanced Science and Partnerships for Integrated Resource Development (ASPIRED) project is working with Armenia's Ministry of Environment to develop a methodology to assess the self-purification capacity of rivers and related enforcement mechanisms. The methodology is part of broader measures to protect Armenia's water resources and reduce groundwater extraction in Armenia's Ararat Valley to sustainable levels.
To develop the hydro-chemical, hydro-biological, and hydro-morphological components of the methodology, ASPIRED worked with the Ministry of Environment to establish a working group consisting of field experts and representatives from the Ministries of Environment, Emergency Situations, Territorial Administration. The field experts include a hydro-morphologist, water quality specialist, and hydro-biologist. The working group has been taking water samples from the Kasakh River basin based on river network morphology, hydrological feeding regime, existing human and natural pressures on the water quality, availability of multi-year monitoring data, and other factors.
ASPIRED and the Ministry of Environment jointly drafted the government decree establishing the requirements for protection of water resources in Armenia's recreation zones and initiated development of the methodology. They are also working together to draft a legal act with enforcement mechanisms. Enforcement of these regulations is critical to ensuring protection of Armenia's water resources.
ASPIRED presented interim results, next steps, and proposed enforcement mechanisms earlier this month and will present the completed methodology, user manual, and draft legal act with enforcement mechanisms to the Armenian Government in July 2020. ASPIRED will conduct the user training on the method if necessary.
The ME&A-led ASPIRED assists the Government of Armenia in developing consistent policy and technical solutions for a more regulated use of the nation's vital groundwater resources. ASPIRED focuses on closing data gaps, improving technical capacities and tools for informed decision-making, increasing access to innovative water conservation and energy efficiency technologies, and promoting regulatory and enforcement mechanisms. ME&A was awarded the ASPIRED project as a task order under the USAID Water and Development Indefinite Delivery Indefinite Quantity Contract.