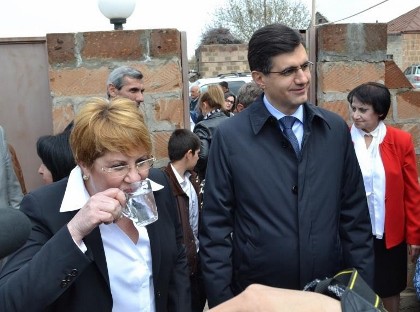 Public-Private Partnership Improves Local Water Supply in Armenia
USAID Armenia along with the international telecommunications firm, VivaCell-MTS, and the Foundation for the Preservation of the Wildlife and Cultural Assets (FPWC), a local NGO, recently marked the completion of a major water supply improvement project in Arazap Village. USAID Armenia Mission Director Karen Hilliard, General Manager of VivaCell-MTS Ralph Yirikian, and FPWC Founder Ruben Khachatryan, along with the regional Governor and the Arazap Village Mayor participated in the inaugural celebration on April 14.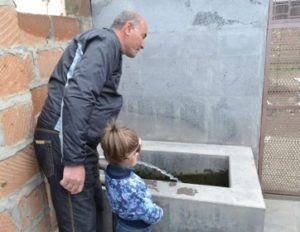 Rehabilitation of the Arazap water supply network included the installation of 18.2 km of leak-free polyethylene piping, a new pump, water metering devices, and new billing software for water services. The project helps improve the efficiency of the water supply system by reducing water losses and contamination risks and leading to water, energy and financial savings. Arazap residents will now have access to clean water 24 hours a day instead of the former three. It is estimated that the community will save about 72,000 cubic meters of water and 30 megawatt-hour of electric energy each year.
USAID, VivaCell-MTS and FPWC partnered in 2014 to implement water supply projects in four villages of Armenia – Arazap and Lukashin in Armavir, and Artsvaberd and Berkaber in Tavush – to help the communities get access to potable water and improve well being. Nearly 7,000 people will benefit from this assistance. VivaCell-MTS and USAID allocated AMD 70 million and AMD 60 million, respectively, for the implementation of the four projects.
This public-private partnership project was partially funded by USAID's Clean Energy and Water Program, which is being implemented by ME&A.