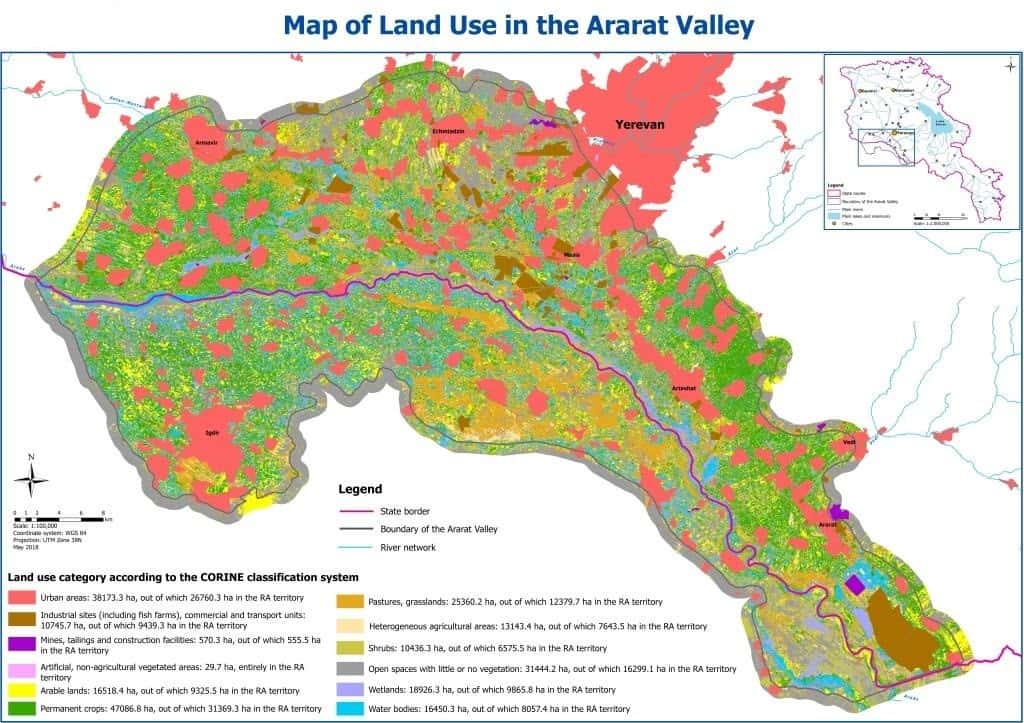 USAID and ASPIRED Thanked for Land Cover and Land Use Classification of Ararat Valley
The results of a USAID-funded land cover and land use classification of the Ararat Valley were presented June 19, 2018, to representatives of Armenia's Ministries of Nature Protection (MNP), Agriculture, Energy Infrastructures, and Natural Resources as well as several research and academic institutions. The land-cover/use classification activities are part of the ASPIRED Project's efforts to improve data on the Ararat Valley's groundwater resources by enhancing current mechanisms of data collection, processing, and maintenance.
The ASPIRED Project used high-resolution satellite imagery Sentinel-2 and the European Environmental Agency's Coordinated Information on the Environment (CORINE) system to perform the land cover and land use classification. The project team then processed the satellite images to identify problematic areas requiring additional study through ground-truthing with GPS devices to prepare the final land cover/use map.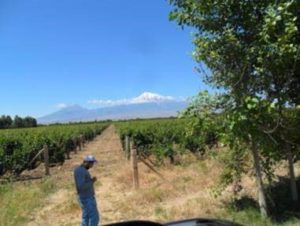 The data will help generate precipitation/run-off curves and estimate the hydrological balance and critical water demand and supply balance of the valley's artesian basin. The analytical tools' potential uses are numerous and range from environmental protection and hydrology to resource management and agriculture—enabling more informed decision making on groundwater resources.
During the June 19, 2018, ASPIRED presentation, various stakeholder representatives lauded USAID/Armenia and the ASPIRED Project for their continuous efforts to support Armenia's water management sector. Simon Papyan, Head of the MNP's Environmental Monitoring and Information Center (EMIC), thanked the ASPIRED team for the sophisticated land use analysis and emphasized that the environmental challenges of the region should be considered in the context of the nexus between the Ararat Valley's land use and water use.
Stakeholder representatives also expressed the need for ASPIRED to expand its data collection and analysis support to other local organizations and sectors. Deputy Minister of Energy Infrastructures and Natural Resources Vardan Gevorgyan mentioned that the Republican Geological Fund also possessed significant amount of data and materials. There may be a need for technical discussions between the ASPIRED and the Ministry specialists to verify the consistency between the two data sets.
Deputy Minister of Agriculture Armen Harutyunyan expressed gratitude toward the continued partnership between USAID and the Ministry of Agriculture. Discussing the modern data collection techniques, Mr. Harutyunyan raised the importance of having a comprehensive electronic map of Armenia that would consolidate diverse data from nature protection, agriculture, energy, and other relevant sectors.
M&A implements the Advanced Science and Partnerships for Integrated Resource Development (ASPIRED) Project for the USAID Mission in Armenia. Begun in September 2015, ASPIRED is designed to support sustainable water resource management and sustainable practices of water users at the core of the water-energy nexus through the use of science, technology, innovation and partnerships approaches. The goal is to reduce the rate of groundwater extraction in Armenia's Ararat Valley to sustainable levels. ASPIRED is a task order under the USAID Water and Development Indefinite Delivery Indefinite Quantity Contract.