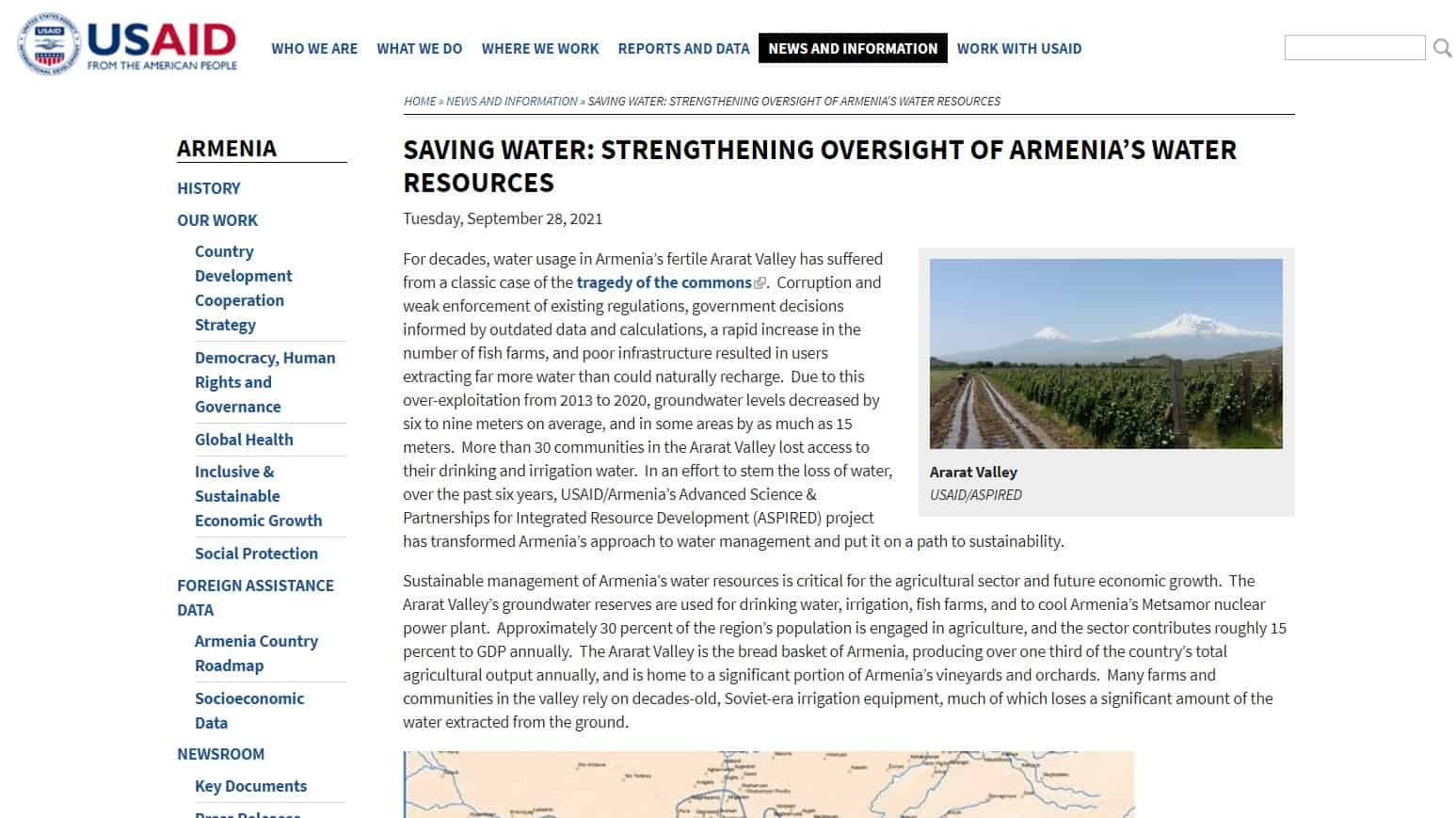 USAID Highlights ME&A-Led Work Strengthening Oversight of Armenia's Water Resources
How the ME&A-led USAID/Armenia's Advanced Science and Partnerships for Integrated Resource Development (ASPIRED) project transformed Armenia's approach to water management over the past six years and put it on a path to sustainability was recently featured on the USAID website.
"For decades, water usage in Armenia's fertile Ararat Valley has suffered from a classic case of the tragedy of the commons," the article notes. "Corruption and weak enforcement of existing regulations, government decisions informed by outdated data and calculations, a rapid increase in the number of fish farms, and poor infrastructure resulted in users extracting far more water than could naturally recharge."
The article goes on to describe the sustainable management ASPIRED ushered in from sustainable fish farm practices to introducing sophisticated data modeling techniques for monitoring ground water levels to restoring communities' irrigation systems. It features two maps ASPIRED developed with geospatial data and remote sensing on declining water levels in the Ararat Valley. More than 30 communities in the Ararat Valley lost access to their drinking and irrigation water before ASPIRED helped reverse this trend.
ME&A implemented the ASPIRED project for the USAID Mission in Armenia through September 2021. Begun in September 2015, the ASPIRED project was designed to support sustainable water resource management and sustainable practices of water users at the core of the water-energy nexus through the use of science, technology, innovation and partnerships approaches. ASPIRED is a task order under the USAID Water and Development Indefinite Delivery Indefinite Quantity Contract.