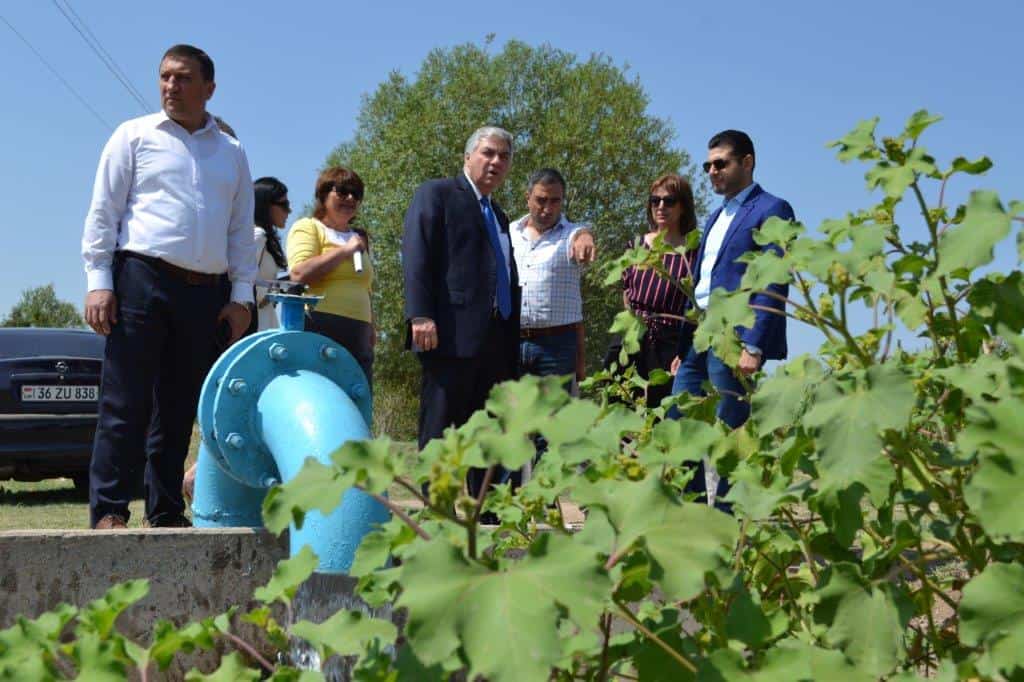 Armenian Village Celebrates USAID-Funded Irrigation Efficiency Improvements
The completion of USAID-funded irrigation efficiency improvements benefiting 150 households in the Armenian village of Mrgashat was commemorated August 10, 2021, at a community celebration. USAID/Armenia Mission Director John Allelo, Armavir Province Governor of Hambardzum Matevosyan, and Mrgashat Mayor Gevorg Danielyan attended the celebration along with Magda Avetisyan, ME&A's Chief of Party for the USAID-funded Advanced Science & Partnerships for Integrated Resource Development (ASPIRED) Project that implemented the efficiency improvements in collaboration with the Mrgashat municipality.
Mrgashat has a population of 5,500 and is one of the largest villages in Armenia's Armavir region. The village receives irrigation water from two sources and has an adequate supply of irrigation water. Before the irrigation efficiency improvements, however, network inefficiencies prevented 30 hectares of farmland from being irrigated for more than 20 years. About 80 percent of the village's water did not reach these fields and was lost along the way, impacting 150 households who can now irrigate the 30 hectares of farmland and grow crops.
Specific improvements included building a new irrigation network with polyethylene pipes to prevent water losses in the system, installation of new pump controls with phase and current protection circuits, and construction of outlets in the fields to distribute the water to the farm plots. These upgrades will result in water and energy savings equivalent to 228,000 m3 of water and 59,280 kWh of energy annually.
Under ASPIRED, ME&A collaborates with the USAID/U.S. Global Development Lab/Center for Data, Analysis, and Research (DAR), the U.S. Geological Survey, and other relevant institutions to pilot innovative technologies for water conservation and fish farms; establish transformational partnerships; and promote evidence- and science-based water resource monitoring, planning and management. In addition, ME&A also works with the private sector, academia, and other donors to leverage their resources and expertise in the Armenian water and energy sector.