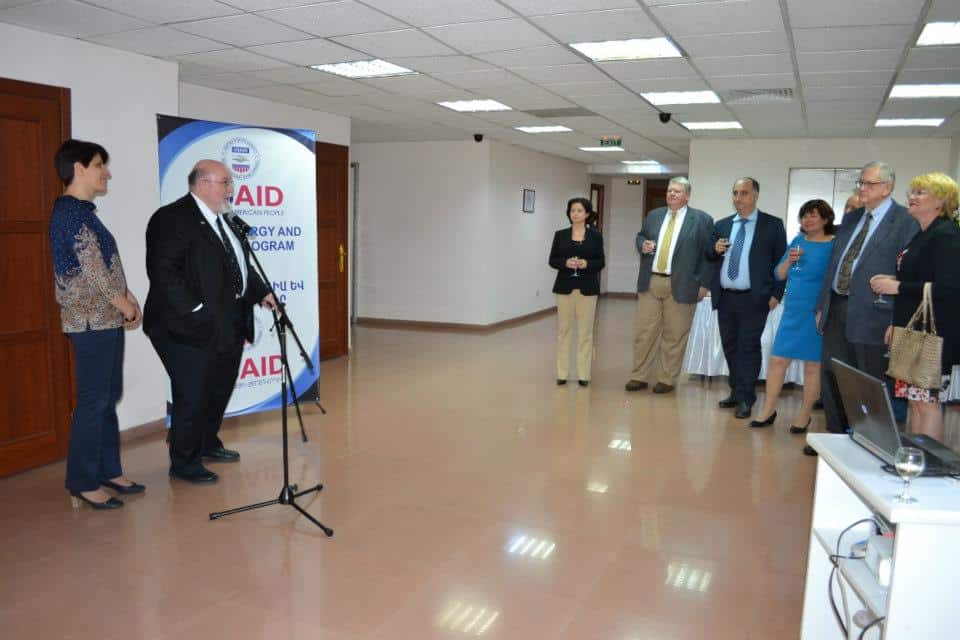 CEW Hosts Open House for Program Partners
The Clean Energy and Water Program (CEWP) hosted an Informal Open House Event on Monday, April 8 at the Citadel Business Center in Yerevan, Armenia. The guests of the CEWP were representatives of USAID as well as its partners from local and international organizations and government agencies such as the Children of Armenia Fund, Counterpart International, State Committee of Water Systems of the Ministry of Territorial Administration, State Hydro-Meteorological Service and other organizations. USAID Mission Director Dr. Karen Hilliard was also present at the event. She used the opportunity to greet the partners and the CEWP team at this informal social gathering and wished success to their joint projects.
The CEWP seeks partnerships with a number of local organizations and donor-funded programs, to solicit co-funding for demonstration projects. These efforts have already yielded results. In partnerships with the Children of Armenia Fund and SOS Children Villages Armenia, CEWP successfully completed energy efficient lighting projects in Lernagog village in the Armavir region and SOS Children's Village in Ijevan. Two renewable energy projects are currently underway in SOS Children's Village in Kotayk as well as a rural clinic in Darbas village in Syunik in collaboration with SOS Children's Villages Armenia and World Vision International.