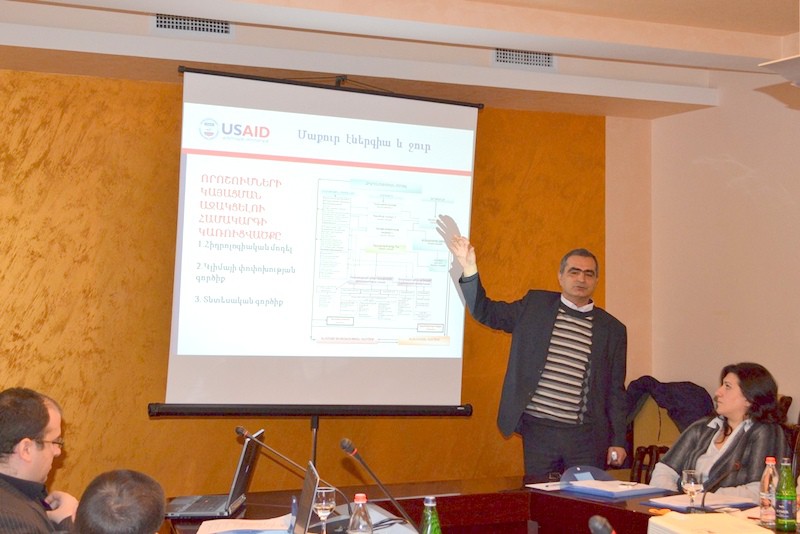 Decision Support System to Improve Water Management in Armenia
The USAID-funded Clean Energy and Water Program (CEWP) managed by ME&A conducted the second meeting of the Decision Support System (DSS) Advisory Group on April 25-26, 2013 in Aghveran, Armenia. The meeting presented the results of work completed by the CEWP toward the development of the DSS for integrated water resources management.
One of the objectives of the CEWP is to introduce technical tools and mechanisms for improved integrated management of the country's water resources. Achieving this task requires a multi-phased approach, which assumes development of clear mechanisms for the wise use of water resources by various sectors with due account of factors such as water balance and availability, short- and long-term water demand, climate change impact and other considerations. To this end, the CEWP is designing the DSS which will be used to enhance the effectiveness of decision making in this field. This particularly relates to providing analytic information for integrated river basin management planning and water use permitting. In the light of increasing water use and anthropogenic pressures on environment and water eco-systems, the DSS is anticipated to become a very useful instrument for better planning and management of water resources.
Potential users of the DSS will be the Water Resources Management Agency and its regional River Basin Management Organizations, ArmStateHydrometService and other institutions and experts concerned with water resources management and protection. The Advisory Group was formed in December 2012 to evaluate and provide technical recommendations on the DSS from the perspective of field practitioners and future users.
The Clean Energy and Water (CEW) Program is a USAID-funded four-year project designed to support Armenia in improving sustainable management of water and energy sectors through developing capacity for integrated energy and water resource planning, implementation of clean energy and water demonstration projects, public outreach and donor coordination activities. ME&A manages the CEW Program for USAID under a Task Order awarded through the WATER II Indefinite Quantity Contract.