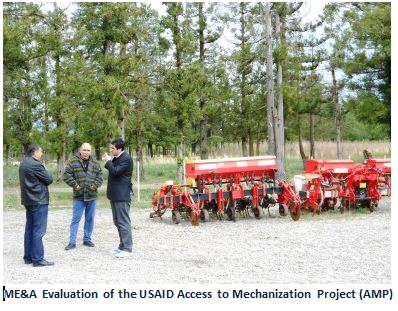 Final Performance Evaluation of the Access to Mechanization Project (AMP) (2013)
ME&A led the final performance evaluation of the USAID/Georgia Access to Mechanization Project (AMP), a three year project implemented by CNFA from 2009 to 2012. The evaluation was conducted from April through May 2013, by a team of two experts, one international and one local, with experience in agricultural development. The ME&A team visited 21 mechanization service centers (MSCs) throughout Georgia and conducted multiple focus groups discussions (FGDs) with farmers from the MSCs.
The methodology included in depth interviews and FGDs with pre-selected stakeholders as well as with the owners and other key personnel of the MSCs. The primary objective was to determine the effects of the AMP program on increasing productivity and incomes for smallholder farmers by improving access to machinery services. AMP was designed to address Georgia's severe shortage of agricultural machinery by using a commercially-sustainable, market-oriented methodology for the development of machinery service providers.
The evaluation was conducted under the USAID Caucasus Mission Evaluation IQC awarded to ME&A in 2013. Since 2010, ME&A has conducted more than 70 evaluations for USAID and the U.S. Department of State in more than 30 countries worldwide.