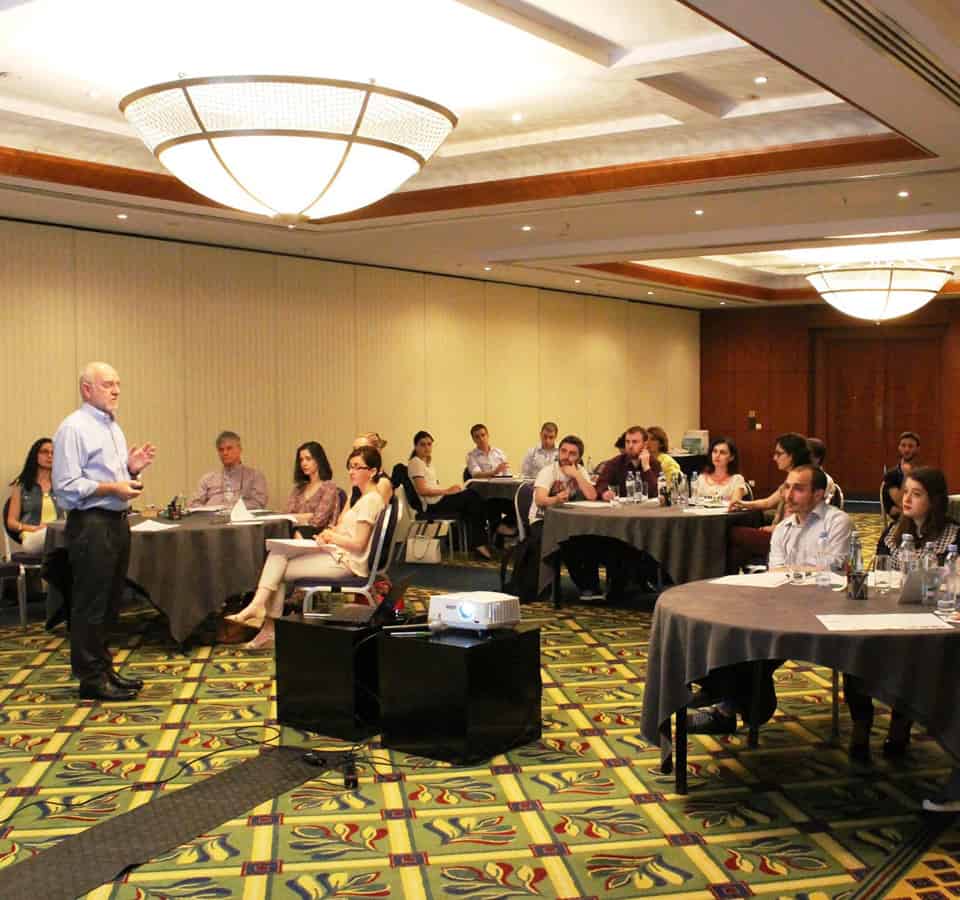 Georgia HICD 2020 Team Sparks ISPI Conference in Italy
Two Georgia HICD 2020 senior staff members—Chief of Party Roman Tsutskiridze and Deputy Chief of Party Ekaterine Leonidze—and three lead consultants from the project's two local subcontractors, Policy and Management Consulting Group (PMCG) and GEC, participated in the International Society of Performance Improvement (ISPI) Europe, Middle East, and Africa (EMEA) 16th Conference in Bologna, Italy, from September 14-16, 2016.
Mr. Vano Tavadze, a lead consultant from PMCG, facilitated one of the concurrent sessions entitled Reshaping Organizations with Poorly Defined Performance Requirements and Coping with Influence Imposed by Complex Environments. The 60-minute session explored the results, experiences, and lessons learned of several performance improvement and organizational structure redesign projects implemented in Georgian organizations, including activities under the HICD 2020 project, funded by the U.S. Agency for International Development (USAID).
Mr. Tavadze provided an overview of the external influences and a variety of factors affecting performance of Georgian organizations, and introduced the participants to internal performance environments. The presentation focused on the PMCG teams' efforts to:
Redesign the organizational structures through application of generic tools
Build sustainability into the performance management and measurement systems
Ms. Ekaterine Katamadze and Mr. George Simongulashvili, lead consultants from GEC, hosted an interactive presentation—
Finding NEMO (New Efficient Management Opportunities)—at the Conference's Lunch 'n Learn session.
Throughout the presentation, the GEC consultants covered several Georgian case studies, discussed why organizations with nearly no competition nevertheless continue to strive towards development, and showed how efforts to improve performance can boost efficiency and help to manage complexity within organizations.
Ms. Katamadze and Mr. Simongulashvili also led one of the Open Assist multinational teams that included ME&A Senior Evaluation Specialist Randal Joy Thompson as well as three conference participants from Germany, Korea, and Israel.
Open Assist is a simulation case study ISPI-EMEA provided for its guest clients. This unique process, which runs throughout the conference, provides an opportunity for teams of participants to engage directly with senior management representing a real organization. Participant teams gain valuable knowledge and actual experience, working on a diverse multinational team, as they interact directly with a senior management team—all in a "safe," supportive, and constructive environment.
Founded in 1962, ISPI is the leading international association dedicated to improving individual and organizational productivity and total performance results in the workplace. ISPI represents more than 10,000 international and chapter members throughout the United States and 45 other countries.
ME&A currently implements the Georgia HICD 2020 Activity under USAID's Human and Institutional Development (HICDpro) Indefinite Delivery, Indefinite Quantity (IDIQ) contract, which was awarded to ME&A in November 2013.