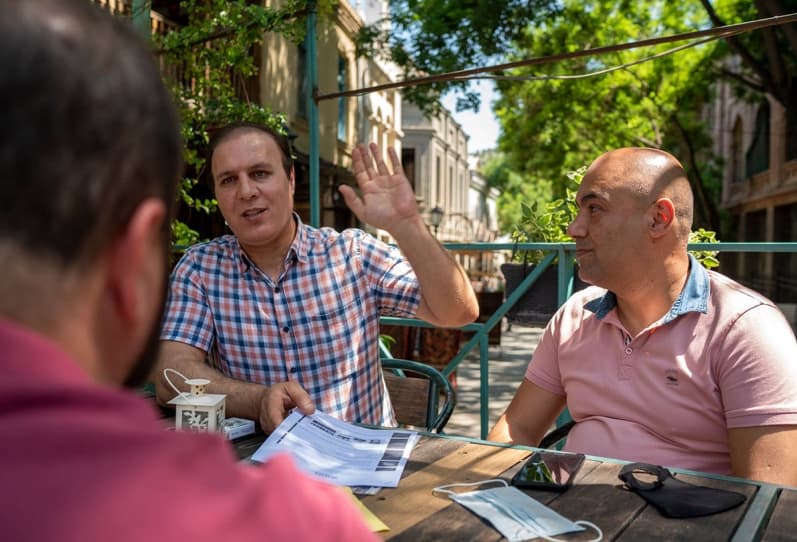 HICD 2020 Assists Legal NGO 'Rights Georgia' to Expand Fundraising
Through the application of new skills, paired with continued hard work and persistence, Rights Georgia raised more than a half million Lari (US$163,000) from the USAID/PROLoG Activity, the International Organization for Migration, Open Society Georgia Foundation, and the Netherlands Ministry of Foreign Affairs. These grants will help to improve the quality and independence of Georgia's judiciary system, establish a fair and effective judicial disciplinary system, provide legal assistance and assessment of needs of migrants in Georgia, and safeguard freedom of expression.
"I am truly happy that Rights Georgia had an opportunity to cooperate with HICD 2020, especially because our partnership went beyond the institutional development activities and proved to be diversified and dynamic, " said Vladimer Mkervalishvili, Director of Rights Georgia.
The USAID/Georgia Human and Institutional Capacity Development 2020 Activity (HICD 2020) worked with Rights Georgia to optimize its organizational structure, develop its human resource management system, re-brand the organization's name, and enhance public communications. Through a rigorous coaching and training program, Rights Georgia developed a realistic and measurable fundraising strategy as well as enhanced skills to propose, initiate, and implement donor-funded projects.
Rights Georgia (formerly known as Article 42 of the Constitution) is one of the pioneer non-governmental organizations (NGOs) that helped form Georgia's civil society in the early post-Soviet years. The organization provides free legal assistance to the victims of human rights abuses in local and international courts and promotes the rule of law in Georgia.
Established in 1997, Rights Georgia had concentrated solely on programmatic work but two decades later faced a weakened position in Georgia's changing NGO ecosystem. Thus, the fundamental need for restructuring, fostering brand and visibility, introducing modern management systems, and improving donor engagement became obvious.
NGOs play a critical role in promoting social and political changes as well as contributing to the development of democratic and vibrant societies. In Georgia, where democracy building is fraught with challenges, NGOs act as indispensable watchdogs for the rule of law, good governance, and civic participation – the cornerstone of a country's sustainable development. Regardless of who is in power, civil society operates without undue interference from the authorities and serves as an effective counterbalance to government.
HICD 2020's objective is to achieve tangible improvements in the human and institutional capacity of USAID's strategic partner organizations in Georgia, including governmental, non-governmental, and for-profit entities. ME&A implements the HICD 2020 Task Order contract under USAID's Human and Institutional Development (HICDpro) Indefinite Delivery Indefinite Quantity (IDIQ) contract, which was awarded to ME&A in November 2013.