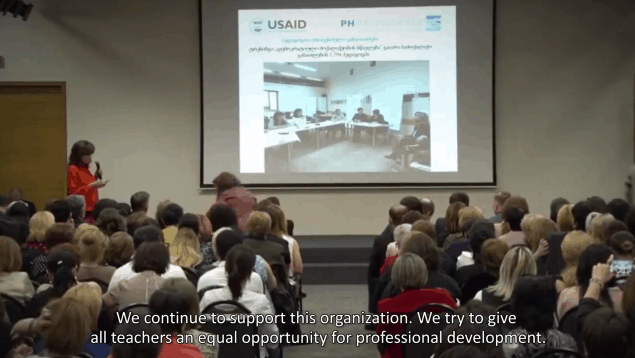 HICD 2020 Video Showcases Work Enhancing Civic Education in Georgia
The USAID-funded Georgia Human and Institutional Capacity Development 2020 Activity (HICD 2020) recently produced a video on how its work building the capacity of strategic Georgian organizations in the public, private, and non-governmental sectors has helped enhance civil education to build a more inclusive society in Georgia.
The South Caucasus have a rich history of unique cultures, but in the recent past this diversity has left members of Georgia's ethnic and religious minorities—up to 15 percent of the population—feeling discriminated against and neglected. To address these challenges, HICD 2020 worked with the Civic Education Teacher's Forum (CETF), a professional association of civics teachers from 2,000 schools covering almost 80 percent of Georgia. CETF's goal is to improve the quality of civic education and enhance its significance in society.
Using the new knowledge and skills gained from HICD 2020's assistance, CETF won several grants to support its service delivery to students and civic education teachers throughout Georgia. CETF and the Center for Training and Consultancy received an European Union grant to implement the Towards a Culture of Peace Project. This is a one-year initiative that engages 1,200 pupils across four regions in Georgia in formal and extracurricular civic education activities that prevent social conflicts, discrimination, and violence as well as trains civic education teachers from 20 schools to identify the early signs of radicalization in pupils.
ME&A implements the HICD 2020 Task Order contract under USAID's Human and Institutional Development (HICDpro) Indefinite Delivery, Indefinite Quantity (IDIQ) contract, which was awarded to ME&A in November 2013. ME&A is joined in this effort by two subcontractors, Chemonics and Performance Design Partners (PDP). The contract is being managed locally through the ME&A/HICD2020 office in Tbilisi, Georgia.