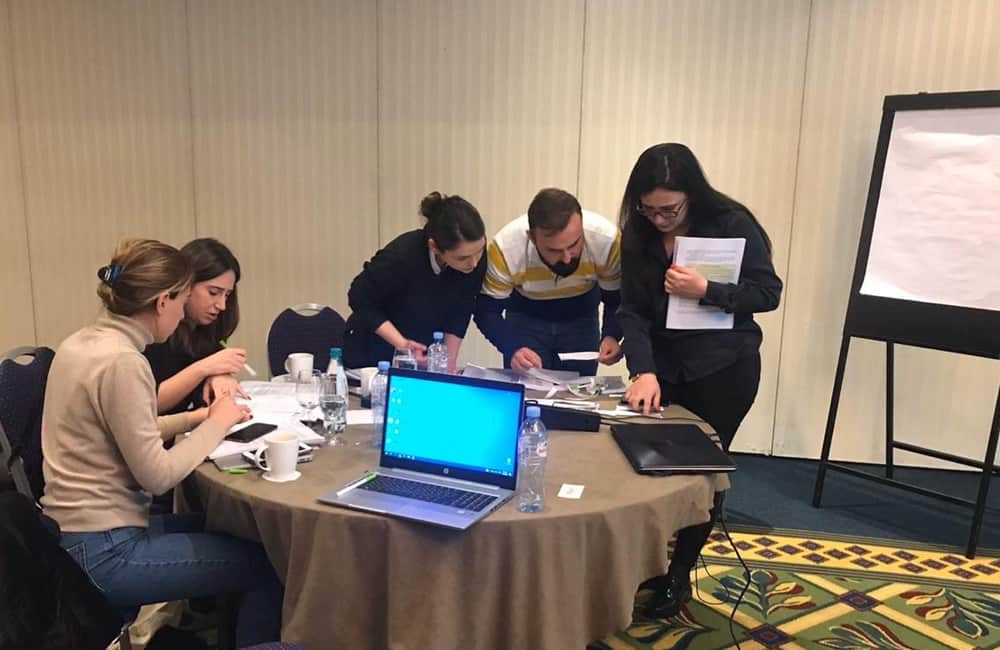 HICD 2020 Workshop in Tbilisi Focuses on Adaptive Learning to Make Good Decisions
With the "L" (learning) in monitoring, evaluation, and learning (ME&L) becoming more important in both theory and practice, the Georgia Human and Institutional Capacity Development 2020 Activity (HICD 2020) recently conducted an ME&L workshop for 17 representatives from seven partner organizations in Tbilisi, Georgia.
"My goal was to instill basic understanding of monitoring, evaluation, and learning so that the participants are better able to function effectively in their jobs to make decisions based on performance evaluations and adaptive learning," said Gary Woller, Ph.D., ME&A Director of Monitoring and Evaluation. "I found the ME&L course useful because the consultants who participated need a grounding in performance evaluations and adaptive learning to make good decisions."
Dr. Woller conducted the workshop along with HICD 2020 Monitoring and Evaluation Manager Nina Kobakhidze as part of the broader, multi-disciplinary "Leading Through HICD" training program. HICD 2020's purpose is to achieve tangible improvements in the human and institutional capacity of USAID's strategic partner organizations in Georgia, including governmental, non-governmental, and for-profit entities.
During the three-day course, participants were exposed to common types of evaluation and data management and in the final session participants developed and presented ME&L plans incorporating collaborating, learning, and adapting (CLA).
"Adaptive learning and CLA are important so that you can convey to other people and decision makers that you understand these issues," Dr. Woller said.
Other topics included operationalizing and revising theory of change, using data visualization to communicate project results, overcoming common adaptive management challenges, and best practices for communicating data and learnings.
ME&A implements the HICD 2020 Task Order contract under USAID's Human and Institutional Development (HICDpro) Indefinite Delivery, Indefinite Quantity (IDIQ) contract, which was awarded to ME&A in November 2013. ME&A is joined in this effort by two subcontractors, Chemonics and Performance Design Partners (PDP). The contract is being managed locally through the ME&A/HICD2020 office in Tbilisi, Georgia.