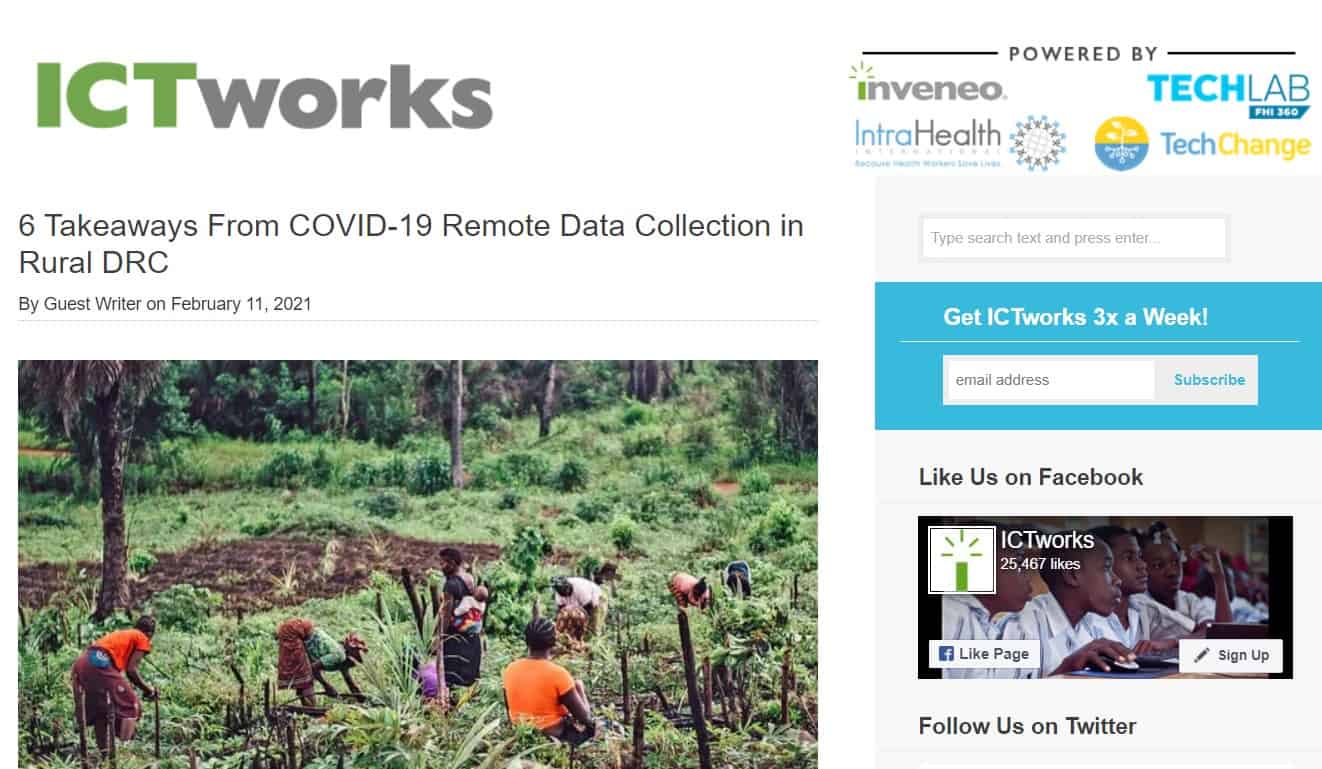 ICTworks Features ME&A's Remote Data Collection for Feed The Future Evaluations
Lessons ME&A learned conducting remote data collection in the Democratic Republic of Congo and Mali to overcome COVID-19 and conflict-related physical security risks were recently featured in ICTworks.
The article, entitled "6 Takeaways From COVID-19 Remote Data Collection in Rural DRC," featured six lessons learned:
Be flexible and open to change with contingency plans.
Find workarounds to obtain the data you need.
Remote data collection may affect the timeline.
Identify stakeholder groups to overcome digital divides.
Invest heavily in upfront training for local consultants.
Be open to new data sources in whatever ways are possible.
ICTworks is a virtual community for international development professionals committed to utilizing new and emerging technologies to magnify the intent of communities to accelerate their social and economic development. It disseminates articles several times a week to 22,000 email subscribers, 25,000 Facebook friends, 17,000 Twitter followers, and 5,000 weekly website visitors.
The article, by Communications Consultant to ME&A Monica Jerbi, stemmed from an interview with Gary Woller, Ph.D., PEEL Chief of Party and ME&A Director of Monitoring and Evaluation about PEEL's work and findings.
PEEL supports USAID's Feed the Future Initiative through population-based surveys, performance and impact evaluations, and other evaluative studies. These services allow USAID to better understand how Feed The Future activities are being implemented, how well they are performing, and how they are perceived by beneficiaries. USAID awarded the PEEL task order to ME&A in 2016 under the Policy, Planning and Learning-Learning, Evaluation and Research (PPL-LER) Indefinite Delivery Indefinite Quantity Contract providing evaluation, monitoring, and assessment services for USAID Missions and Offices worldwide.