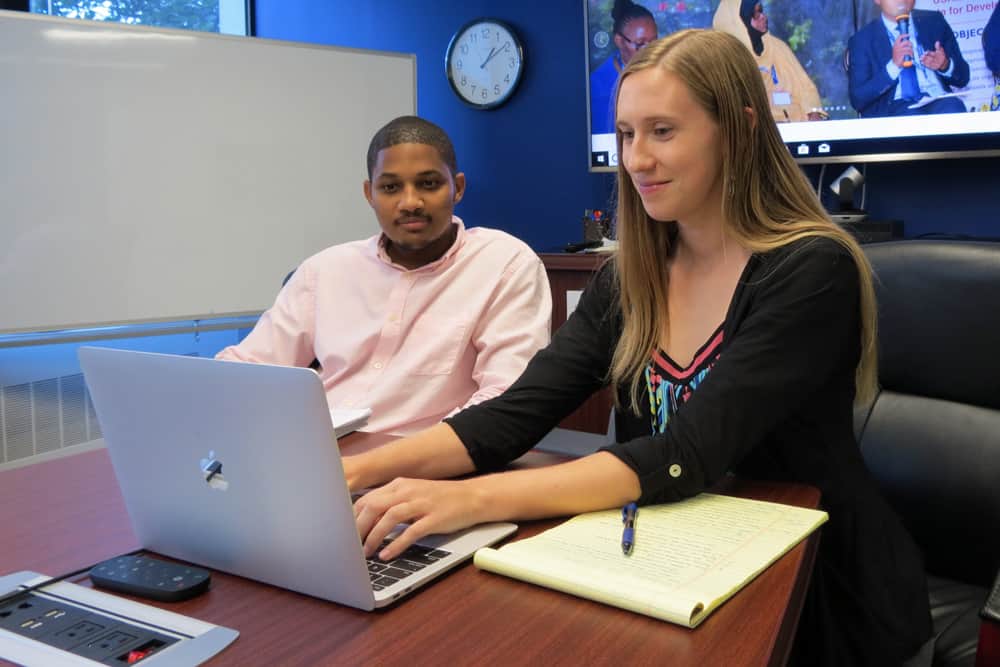 ME&A Headquarters Welcomes 2019 Summer Interns
ME&A is proud to welcome another set of accomplished and engaging students joining our headquarters in Bethesda, Md., this summer as interns. The 2019 interns are Mohammed Diallo and Bethany Reitsma.
Mohammed is a rising senior at Towson University majoring in Finance with an International Business minor. He was born in the United States; grew up in Guinea, Ivory Coast, and France; and speaks English and French and four local dialects from Guinea and Ivory Coast. Mohammed is excited to intern at ME&A to help him start a career in international development to enable him to assist in reducing poverty and improving job opportunities, health, and education in Africa and around the world.
"A reason why I chose to work at ME&A as an intern was to get experience working with USAID," he said. "I have indeed developed skills that will for certain lead the way to an amazing career. I am grateful for the opportunity offered by ME&A, and also I look forward to learning more from everyone at ME&A."
Bethany Reitsma is a rising senior at Washington and Lee University double majoring in Politics and Philosophy with a minor in Computer Science. She is the concertmaster of the University Orchestra, Vice President of Administration in her sorority, and D.C. State Chair in Mock Convention. Bethany is originally from Charlottesville, Va., but has spent multiple summers in Washington, D.C., studying law, politics, and now international development. She aspires to pursue a career in international development or as an intelligence analyst and plans to find an entry-level job in the federal government or private sector doing research or analysis related to public policy upon graduation. She ultimately plans to obtain a Master's in Public Policy or International Affairs but wishes to gain more work experience to inform her decision-making around what graduate program would be the best fit.
"So far, I have spent a lot of time talking to individuals about their roles in the company, learned a great deal of the proposal-writing process at ME&A, and have begun to more seriously consider pursuing a career in international development," she said. "I have greatly enjoyed my time at ME&A so far and look forward to learning everything I can from my coworkers at ME&A before returning to school in August."
Both Mohammed and Bethany are spending the summer working on various ME&A headquarters teams, including business development, accounting and finance, operations, geographic information systems, and human resources. They are having numerous opportunities to observe and engage in home office coordination of international development projects and behind-the-scenes operations, led by ME&A's professional staff.
"We have interns in order to support their future careers and help them to fulfill the school's requirement for an internship," said Lizette Laserna Salvador, ME&A's Director of Human Resources. "This is a real life experience for them to be in the workforce. At ME&A, we treat them as real employees not just interns."