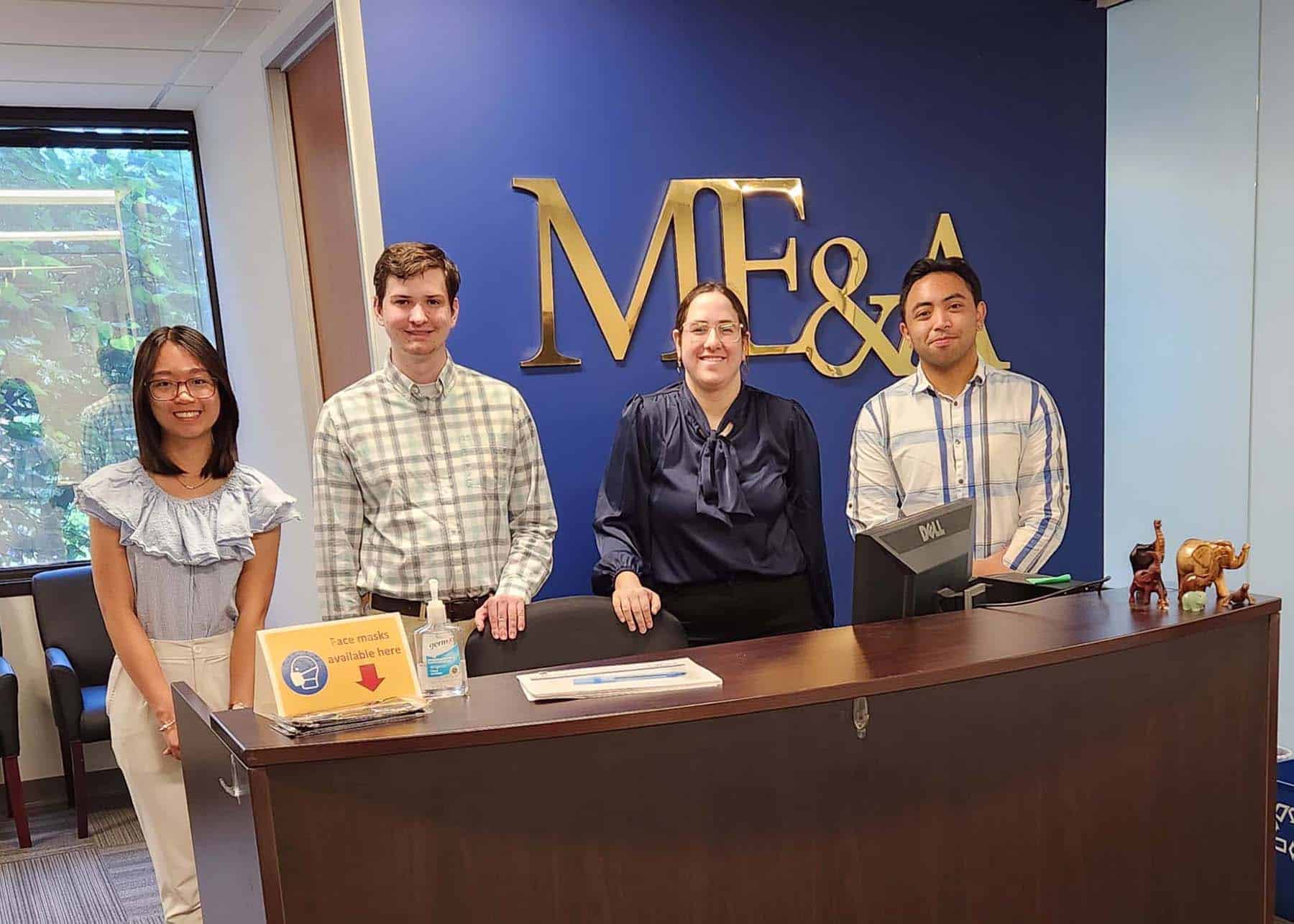 ME&A Headquarters Welcomes 2023 Summer Interns
ME&A welcomes our accomplished and engaging 2023 summer interns, Nhi Nguyen, Mira Levin-Antila, Angelo Salvador, and Nicholas Sharp, to our headquarters in Bethesda, Maryland.
"It is always a pleasure to open our doors to hands-on experience in international development to promising college students and recent graduates," said ME&A President and CEO Teresita Perez. "ME&A is proud our interns have gone on to senior leadership at ME&A, USAID, Feed the Future, NIH, and other agencies. I can't wait to see where Nhi, Mira, Angelo, and Nicholas take their future careers in international development."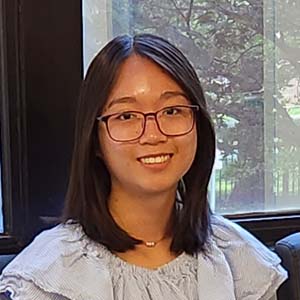 Nhi earned a B.S. from Drexel University in Philadelphia, Pennsylvania, in 2022 in International Business. At Drexel she studied abroad in Amsterdam, served as vice president of the Global China Connection Global Team, and was on the Dean's List for her 3.97 cumulative GPA. She has previous experience as an administrative intern for Enrich in the USA, in Philadelphia, Pennsylvania, supporting senior leadership, conducting quality control reviews, managing databases, and providing logistical support for events with more than 100 international participants. Enrich in the USA is the U.S. branch of the European Network of Research and Innovation Centres and Hubs. Nhi is bilingual in Vietnamese and also proficient in intermediate Chinese.
"Since college, I have always wanted to be on a career path where I can make big impacts on people's lives around the world. And when working with ME&A and getting a first hands-on experience in the international development field, I believe I am moving a bit closer to this goal of mine." Nhi said. "During the past couple of months, I have been actively involved in many proposal-writing processes and given opportunities to lead the research and communication with local partners abroad. I also have been involved in international recruiting and USAID procedures and documents. I am very grateful and can't wait to see how much I grow in the next few months."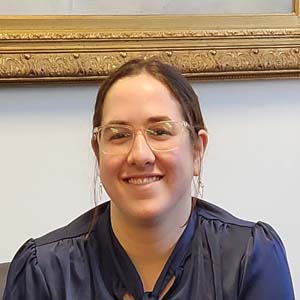 Mira is a rising junior at Towson University with a cumulative GPA of 3.78 pursuing a B.A. in History with a minor in Gender Studies. At Towson, she serves as secretary of the Korean Culture Club. This fall she will study abroad in Florence, Italy, to immerse herself in Italian culture and Renaissance history. Three previous summers she worked for several weeks for Ohr Kodesh Congregation in Chevy Chase, Maryland, assisting teachers overseeing children in the classroom. She worked for Round House Theater Education Center in Silver Spring, Maryland, as another summer job where she assisted teachers with basic theater training to students. Mira also has work experience in the food service industry. She is proficient in Spanish.
"I initially thought that not having experience in the field of international development would be a disadvantage, but the environment at ME&A is incredibly welcoming and personable. I feel valued as an intern and comfortable enough to ask questions," she said. "The guidance I've been receiving under the [monitoring, evaluation, and learning] team will undoubtedly be helpful to me in my future professional opportunities. I really appreciate the compassion that I've been shown through my first internship venture."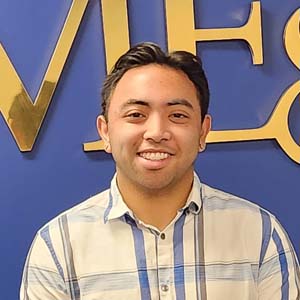 Angelo is a rising junior at the University of Maryland, Baltimore County, majoring in Financial Economics with a minor in Entrepreneurship and Innovation. He is a 2021 graduate of the Eleanor Roosevelt Science and Technology Program in Greenbelt, Maryland, and a Bata2BataPreneur Ambassador. Angelo has served as treasurer of District VI of the Filipino Intercollegiate Networking Dialogue, D6 representative for the Filipino American Student Association, and treasurer of a campus fraternity. Last summer Angelo served as a summer intern finance assistant at Halvik Corp supporting tracking of finances, report creation, and data entry. He is proficient in Tagalog.
"Having this internship is such a new experience for me, especially because I do not have much exposure to international business," he said. "Being able to work in an office environment has taught me so much, and the skills that I have learned here I will take throughout my entire life. It has only been a short time since I started, but I have learned a lot and I am excited to learn even more!"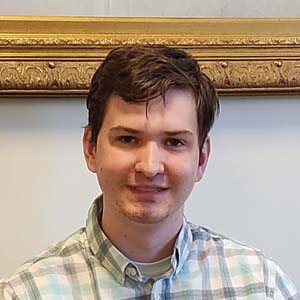 Nicholas is a rising freshman at James Madison University pursuing a B.A. in History and International Affairs. He is on the Dean's List with his 3.55 cumulative GPA. In previous summers he worked as a lifeguard at a pool and in the food service industry. Nicholas has achieved the rank of Eagle Scout, leading a successful service project and earning merit badges including Citizenship in the Nation, Citizenship in the World, and Environmental Science. He also has volunteered on various other member-led service projects. Nicholas has studied Spanish and German.
"It is great to work in a place that expands my knowledge on a topic that I've learned about in my studies," he said. "I get to learn so much more about government contracting and international aid to help me in school and in a future career while also meeting a bunch of wonderful people here in the office."
The ME&A internship program is run by ME&A's Director of Human Resources Lizette Laserna Salvador.
"ME&A provides interns the tools to help them grow in their chosen field or explore a career in international development by exposing them to different areas of expertise that ME&A has," she said. "We provide interns paid on-the-job training while fulfilling their school requirements. This is a hands-on experience used as a springboard for bigger and better things."