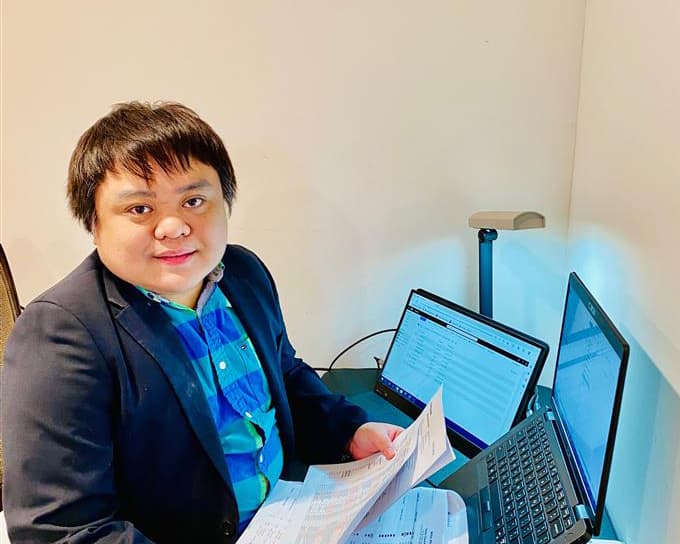 ME&A Summer 2022 Intern Joins Headquarters as New Hire
Last summer ME&A welcomed another accomplished and engaging recent college graduate joining our headquarters in Bethesda, Md., as an intern. The intern, Mark Ferrer, is a good fit for ME&A and was recently hired after six months as a full-time records and database assistant.
Mark is a summa cum laude graduate of Gallaudet University, a private federally chartered research university in Washington, D.C. for the education of the deaf and hard of hearing. He holds a B.A. in Art and Media Design and earned numerous awards and recognition during his time at Gallaudet. These awards and recognition include several semesters on the Dean's List, a second place award in the Juried Deaf Art Exhibition and Competition in 2018, and the Joseph L. Mattivi Award. The Mattivi Award goes to an Art and Media Design Major going above and beyond the creative and technical requirements of the program and proving to be a leader in the field. Mark is fluent in American Sign Language and also is conversant in English.
"I am a person with a disability. I am deaf and working with hearing professionals can be a very challenging experience since it is outside my normal comfort zone," Mark said. "ME&A has nevertheless provided me with all of the tools that are required, including the availability of closed captioning at every staff meeting and the common use of clear email communications with my colleagues, which assists me in completing my assigned tasks."
Mark spent most of his internship helping finance and accounting build an electronic database. He displayed commitment and dedication to his work and the ability to support other teams, which is why he was hired as a full-time records and database assistant, according to ME&A's Director of Human Resources Lizette Laserna Salvador.
"My direct supervisor Lizette Salvador and the finance team had been very helpful. This has made me feel very welcome, and it has allowed me to learn so much during my internship with ME&A," he said. "I appreciate very much the friendly and professional environment that exists at ME&A, and I look forward very much to continuing to learn even more while working there in the future."
Mark also completed internships at the Library of Congress and Smithsonian Asian Pacific American Center and worked after graduation as a graphic designer for DefCan. DefCan provides employment for artisans with the deaf and hard of hearing community.
"ME&A provides interns the tools to help them grow in their chosen field by exposing them to different areas of expertise that ME&A has," Ms. Salvador said. "This on-the-job experience helps them develop an expertise to be used as a springboard for a rewarding career."