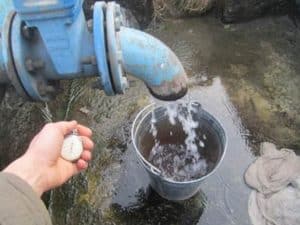 ME&A Team Leads Water Presentation on Ararat Valley
On December 16, 2016, the USAID-funded Advanced Science and Partnerships for Integrated Resource Development Project (ASPIRED) organized the presentation of the final results of the inventory of wells, natural springs and fisheries in Armenia's Ararat Valley. The Hydrogeological Monitoring Center of the Armenian Ministry of Nature Protection conducted the inventory in order to obtain data on groundwater resource use and the actual volume of water abstraction at different water use points. The inventory is a critical step towards establishing a publicly accessible database on groundwater resources and supports the Government of Armenia's data-driven decision making.
About 70 participants from the Armenian Ministries of Nature Protection, Agriculture, Energy Infrastructures and Natural Resources, the President's office, representatives of international organizations, NGOs and academic institutions attended. The Minister of Nature Protection, Artsvik Minasyan, emphasized the synergic efforts of USAID and the Government of Armenia towards more sustainable management of the groundwater resources of Ararat Valley. In her welcoming remarks the USAID Mission Director, Deborah Grieser, acknowledged the effective collaboration between the ASPIRED Project and the Ministry of Nature Protection in spearheading the development of an up- to-date transparent data system on the Ararat Valley that will provide public access to groundwater data.


The event was a forum for а constructive dialogue between the government and civil society on acute issues related to the environmental and strategic importance of the groundwater resources of the Ararat Valley.
In the near future, ASPIRED in collaboration with the U.S. Geological Survey plans to work on the preparation of a Digital Hydrogeological Map as well as development and calibration of a three-dimensional model of the Ararat Valley groundwater basin. The Final Inventory Report and the database will be submitted to the Government in January 2017.
ME&A implements the ASPIRED Project for USAID/Armenia to support sustainable water resource management and sustainable practices of water users at the core of the water-energy nexus through the use of science, technology, innovation and partnership approaches.