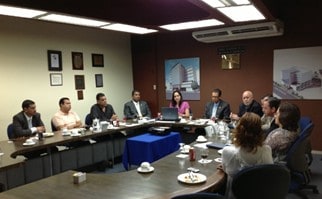 ME&A to Assist Municipal Government in El Salvador
ME&A has joined with ADEPRO, a local firm specialized in local development, to help streamline construction permitting procedures to enhance the effectiveness of municipalities in the Central American Republic of El Salvador. This activity is part of USAID's Municipal Competitiveness Index Project (MCP). The ME&A team, led by urban planner and ME&A Vice President, Carlos Beale, is assessing the efficiency of local municipalities to issue, prepare and regulate construction licenses to improve the local business environment and helping to develop alternative approaches to improve their efficiency.
The goal of MCP is to help municipalities become more competitive by strengthening their administrative and service delivery capacity, cultivating local officials' ability to promote economic activity, and fostering alliances among municipalities as well as between municipalities and the private sector.
USAID's MCP seeks to strengthen municipal competitiveness by developing a favorable business climate in order to increase private investment, business and job opportunities for both men and women through local economic development. The Project assists 50 municipalities throughout El Salvador.