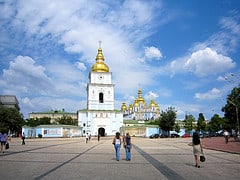 ME&A to Evaluate Five USAID Programs in Eastern Europe
USAID/Ukraine has awarded ME&A a contract to conduct five evaluations of civil society and economic growth programs in Ukraine, Moldova, and Belarus. In response, ME&A has assembled five teams composed of both international and local experts, who will travel to these three Eastern European countries to conduct field work and collect data.
These programs, administered by the USAID Regional Mission in Ukraine, include Development Initiative for Advocating Local Governance in Ukraine (DIALOGUE); Public Private Partnership Development Program (P3DP) in Ukraine; Moldova Civil Society Strengthening Program (MCSSP); Strengthening Civil Society, Civic Engagement and Independent Media (BRAMA); and Community Services to Vulnerable Groups (CSVG) in Belarus.
DIALOGUE seeks to advance decentralization in Ukraine. It is expected to improve the country's legal framework for effective and transparent local self-governance, develop effective policy dialogue between local governments and their partners at the national and regional levels, and Increased public support for local government reforms.
P3DP's goal is to promote the use of PPPs in Ukraine to improve infrastructure and public services in both urban and rural areas with an expanded role for private sector financing and operational expertise in public infrastructure development.
MCSSP seeks to strengthen representative democracy in Moldova through support for an effective, constituent-driven, financially viable civil society sector.
The BRAMA Program works to increase the number and effectiveness of citizens engaging in civil society by strengthening formal and informal civic groups, as well as the capabilities of individuals, to address issues of public concern at both local and national levels. The goal is to strengthen the culture of civic participation and increase the flow of, and access to, independent information.
The CSVG program is attempting to expand the inclusion of two vulnerable groups, OVC and PWDs, in Belarusian civil society through the development of modem, sustainable community- and family-based social services.
Since 2010, ME&A has conducted over 40 evaluations and assessments for USAID and the U.S. Department of State in more than 25 countries worldwide.