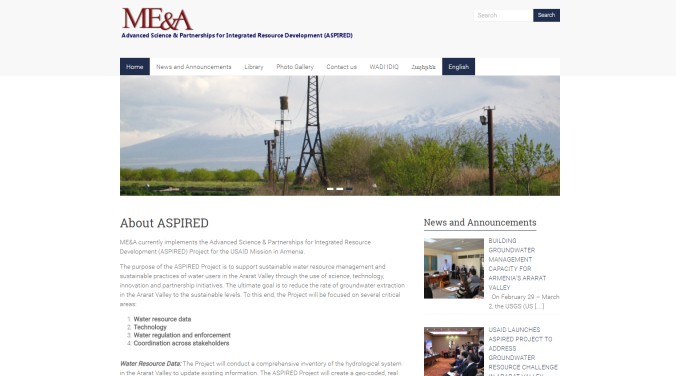 ME&A to Launch Webpage for Water Resource Project In Armenia
To celebrate #worldwaterday, ME&A is pleased to announce the launching of the new webpage for USAID/Armenia's Advanced Science & Partnerships for Integrated Resource Development (ASPIRED) Project.
The new webpage, www.aspired.wadi-mea.com, was designed as an extension of our Water and Development-WADI IDIQ webpage, to deliver ASPIRED's latest news, photos, information and resources. This page will connect stakeholders and implementing partners to our ASPIRED team.
The purpose of the ASPIRED Project is to support sustainable water resource management and sustainable practices of water users in Armenia's Ararat Valley through the use of science, technology, innovation and partnership initiatives. The ultimate goal is to reduce the rate of groundwater extraction in the Ararat Valley to sustainable levels.
This ASPIRED project is funded under the Water and Development IDIQ (WADI) to provide USAID's E3 Bureau with services and technical support to assist USAID's Missions, Bureaus and Offices worldwide in the implementation of the Agency's Water and Development Strategy.
USAID/Armenia awarded ME&A (Mendez England & Associates) the contract for the ASPIRED Project in October 2015.