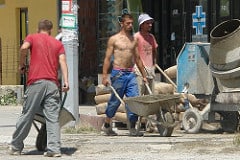 ME&A to Lead National Gender Assessment for USAID Kosovo
ME&A began conducting a national assessment in Kosovo at the end of August 2016 to determine the nature of masculinity in Kosovo and how it affects the development of gender roles, responsibilities and norms.
The purpose of the assessment is to examine the power relations between women and men in Kosovo and provide USAID/Kosovo with an analysis to guide the Mission in transforming how men and women are engaged in gender perceptions. The outcomes of the assessment will help inform USAID programming, as well as potentially shape future programming in the area of Countering Violent Extremism by identifying how gender roles and masculinity influence radicalization.
The ME&A team of an international subject area expert and two local experts will design and execute the national assessment, including secondary data review, key informant interviews, focus group discussions and discourse analyses.
USAID/Kosovo awarded this task order to ME&A under the Policy, Planning and Learning-Learning, Evaluation and Research (PPL-LER) Indefinite Delivery Indefinite Quantity (IDIQ) Contract to provide evaluation, monitoring and assessment services for USAID missions and offices worldwide.
Since 2010, ME&A has conducted more than 60 evaluations and assessments for USAID, the U.S. Department of State, and the Millennium Challenge Corporation in over 25 countries worldwide.