ME&L El Salvador and USAID Partners Share Lessons on Collaborating, Learning, and Adapting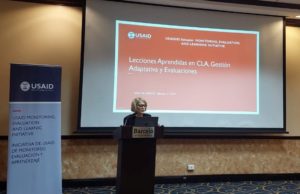 Turning knowledge into action through a greater emphasis on learning, sharing, and adapting to use that knowledge continues to guide USAID/El Salvador Monitoring, Evaluation, and Learning Initiative (ME&L El Salvador) as the project comes to a close.
On Feb. 21, 2022, the ME&L El Salvador hosted a lessons learned workshop on Collaborating, Learning, and Adapting (CLA), adaptive management, and evaluations. The ME&L El Salvador's closing event drew 25 participants from 13 implementing partners as well as representatives from USAID/El Salvador and ME&L El Salvador staff.
Participants provided important contributions for ME&L El Salvador's lessons learned report for the 2017-2021 period to deepen the technical evidence of USAID programming, optimize better decision-making, and strengthen the sustainability of development results.
USAID/El Salvador awarded ME&A the ME&L El Salvador task order in 2016 under the Policy, Planning and Learning-Learning, Evaluation and Research (PPL-LER) IDIQ Contract to provide evaluation, monitoring, and assessment services for USAID Missions and Offices worldwide.