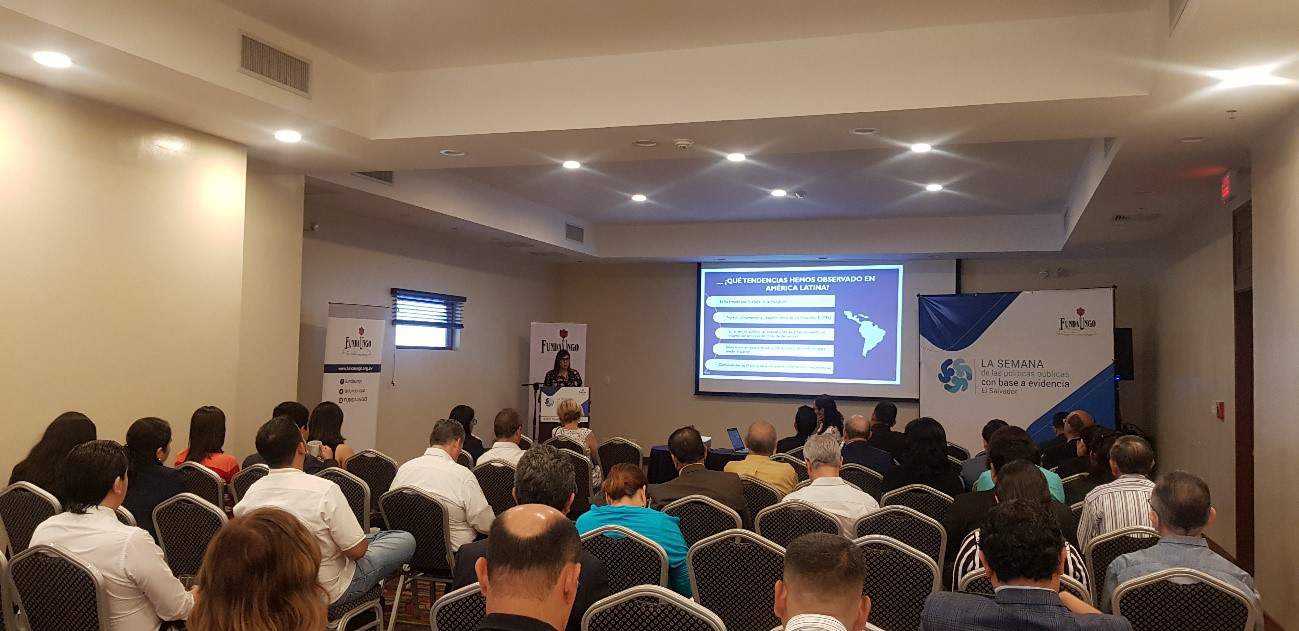 ME&L El Salvador Presentation Featured at 'Week of Evidence-Based Public Policies'
A presentation on evaluation trends in Latin America by Vanessa Pocasangre, Evaluations and Studies Manager for the USAID/El Salvador Monitoring, Evaluation, and Learning Initiative (ME&L El Salvador), kicked off the "Week of Evidence-Based Public Policies," a week-long conference the Dr. Guillermo Manuel Ungo Foundation (FundaUngo) of El Salvador puts on annually on the importance of informed decision-making to creating, implementing, and designing public policies that enhance public welfare.
Her presentation followed the event's opening remarks by Ricardo Córdova, Fundaungo's executive director on the importance of research to provide reliable information to inform decision-making for monitoring and evaluation as well as development and implementation of corrective actions.
The conference took place Sept. 2 to 6, 2019, and was the third year FundaUngo put on the event. Similar efforts have been developed in the United Kingdom, Mexico, Peru, and 12 other Latin American countries.
Ms. Pocasangre's presentation and participation in the event was an opportunity to share some of the innovative methodologies that USAID has supported in Latin America that improve the capabilities of local partners to monitor, evaluate, and develop learning tools for their development programs.
The "Week of Evidence-Based Public Policies" covered topics such as the advances and challenges of social policy in Latin America, statistical systems in the region, evaluation of public policies, and electoral observation in Latin America. Participants included government officials, academics, representatives of civil society organizations, and international development agencies.
The event was sponsored by USAID, Don Bosco University, Television Channel 33, the Netherlands Institute for Multiparty Democracy, the Inter-American Development Bank, and the Government of Canada. This was the second time ME&L El Salvador has been invited to participate in the event.
USAID/El Salvador awarded ME&A the ME&L El Salvador task order in 2016 under the Policy, Planning and Learning-Learning, Evaluation and Research (PPL-LER) IDIQ Contract to provide evaluation, monitoring, and assessment services for USAID Missions and Offices worldwide.