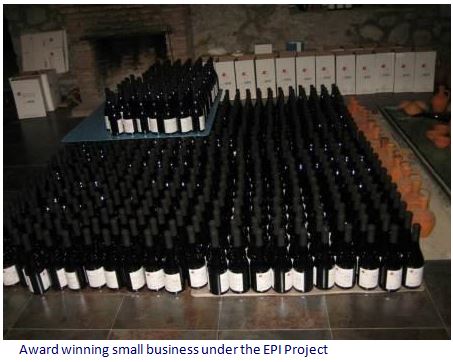 Mid-Term Performance Evaluation of the Economic Prosperity Initiative (EPI) Project
ME&A led the mid-term performance evaluation of the USAID/Georgia Economic Prosperity Initiative (EPI) implemented by Deloitte Consulting. This evaluation was conducted from April to May, 2013 by a three person ME&A team consisting of one international and two local experts, with experience in agricultural development, the private sector and business. The team visited farms, greenhouses, factories, vocational educational institutions, and other facilities in five regions outside of Tbilisi including Adjara, Guria, Imereti, Shida Kartli, Samstkhe-Javakheti, and Samagrelo.
The evaluation methodology consisted of 72 Interviews and meetings with key stakeholders – policy-makers, implementers and beneficiaries of EPI activities; document review, and discussion groups with beneficiaries including farmers, manufacturers, insurance industry executives, wine educators and trainers.
The primary purpose of the evaluation was to assess EPI's contributions toward achieving the USAID/Caucasus' Development Objective – "Inclusive and Sustainable Economic Growth." EPI was designed to improve enterprise, industry, and country-level competitiveness in Georgia. While EPI's assistance to firms in agricultural, manufacturing and the service sectors is aimed to increase investment, open new markets, raise productivity, drive domestic and export sales, and create jobs.
The evaluation was conducted under the USAID Caucasus Mission Evaluation IQC awarded to ME&A in 2013. Since 2010, ME&A has conducted more than 70 evaluations for USAID and the U.S. Department of State in more than 30 countries worldwide.