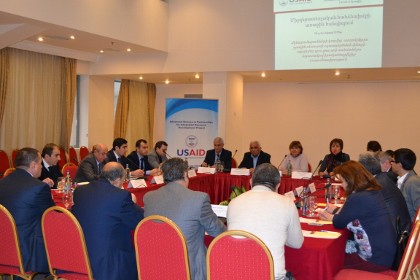 New Interagency Task Force to Assess Ground Water Fees in Armenia
The USAID-funded Advanced Science and Partnerships for Integrated Resource Development Project (ASPIRED) recently set the ambitions goal of reducing the rate of the groundwater extraction in Armenia's Ararat Valley to sustainable levels. The rapid shrinking of the groundwater resources in the valley has reached alarming rates over the past decade. More than 30 communities in the area confront severe water shortages for both drinking and irrigation. This is especially troublesome because the Ararat Valley is the country's agricultural hub.
One of the critical factors in ensuring a more sound management of underground water resources is setting realistic tariffs for the groundwater use by fisheries – the largest consumers of artesian water in the area. In 2015, the Armenian government revised water use permits for fisheries by reducing allowable limits of water abstraction and slightly increased the groundwater use fees.
In coordination with the Ministry of Nature Protection, ASPIRED helped establish an Interagency Task Force to study and provide recommendations to the Government of Armenia on the most optimal groundwater fee rates for fisheries. Its first meeting took place on January 15, 2016. The newly established Task Force will attempt to find a balance between the resource conservation objectives and industry needs.
ME&A began implementing ASPIRED for USAID/Armenia in October 2015. The project is a follow on to the Clean Energy and Water Program (CEWP), which ME&A managed from 2011 to its completion in September 2015.
ASPIRED is funded under the Water and Development IDIQ (WADI) to provide USAID's E3 Bureau with services and technical support to assist USAID Missions, Bureaus and Offices worldwide in the implementation of the Agency's Water and Development Strategy.