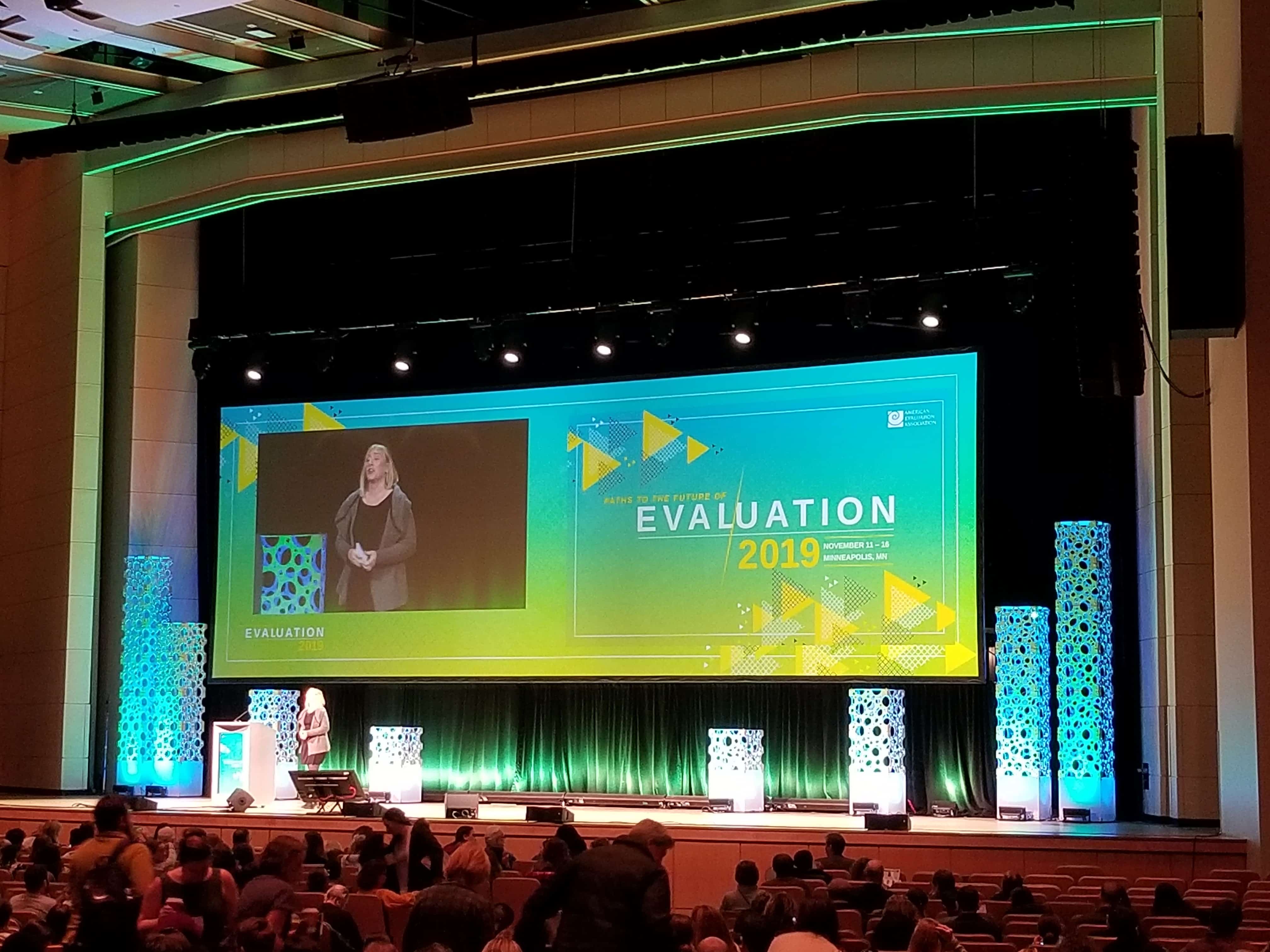 Paths to the Future of Evaluation: ME&A Attends AEA's 33nd Annual Conference
The future of evaluations was the focus of "Evaluation 2019," the American Evaluation Association's (AEA) 33nd Annual Conference taking place Nov. 11 to 16, 2019, in Minneapolis, Minn. Five ME&A evaluation specialists, led by Vice President for Evaluation Services and Proposal Development Mirela McDonald, attended.
"The team had the opportunity to attend select professional development workshops and several presidential strand sessions, panel discussions, and concurrent conference sessions," said ME&A Project Manager Alexander Dow. "The conference was a very useful professional development opportunity to learn new developments in evaluation and to share experiences among evaluation professionals."
"Evaluation 2019" brings together evaluators, evaluation scholars, students, and evaluation users from around the world to share and learn from the successes of the international discipline and practice of evaluation. The ME&A team will use the contacts and information they gathered to enhance ME&A's monitoring, evaluation, and learning (ME&L) services. In addition to McDonald and Dow, the ME&A team also included Geographic Information Specialist (GIS) Thomas G. England, Project Manager Chris Coffman, and Senior ME&L Specialist Wondimu Wolde.
The conference was divided into two major components:
Pre-conference professional development workshops from Nov. 11 to 13, 2019
Concurrent conference sessions including presidential strand sessions, panel discussions, presentations, round tables, lectures, etc., from Nov. 14 to 16, 2019
The ME&A team participated in the following pre-conference workshops:
A full-day workshop on mixed methods design in evaluation, including the four paradigms and branches of mixed methods design: post-positivism, constructivism, pragmatism, and transformative.
A full-day workshop on introduction to QGIS, a free and open-source GIS application, including how to access relevant maps, construct data sets, integrate data into maps, and best use QGIS tools to tell a visual story that is easy to understand and shares a clear message.
A half-day workshop on defining and applying logical framework fundamentals, including a training of trainers aspect to equip attendees with tools and teaching methods to introduce ME&L logframes to beginners in the field.
"Our participation at the conference will contribute to our professional development and ME&A's success," Wolde said.
The conference's theme was "Paths to the Future of Evaluation: Contribution, Leadership, Renewal," and the concurrent conference sessions the ME&A team attended explored:
What frameworks, experiences, methods and practices best prepare ME&L practitioners to address key issues?
How do ME&L practitioners innovate and adapt their thinking, methods, and practices to ensure evaluations address the important societal challenges of today and enable communities to have informed and productive conversations?
How do ME&L practitioners ensure evaluation practices "leave no one behind"?
How ME&L practitioners can bring leadership competence to evaluations?
AEA is an international professional association and the largest in its field. Its mission is to improve evaluation practices and methods worldwide, increase evaluation use, promote evaluation as a profession, and support the contribution of evaluation to the generation of theory and knowledge about effective human action. For more information about AEA, please visit www.eval.org.