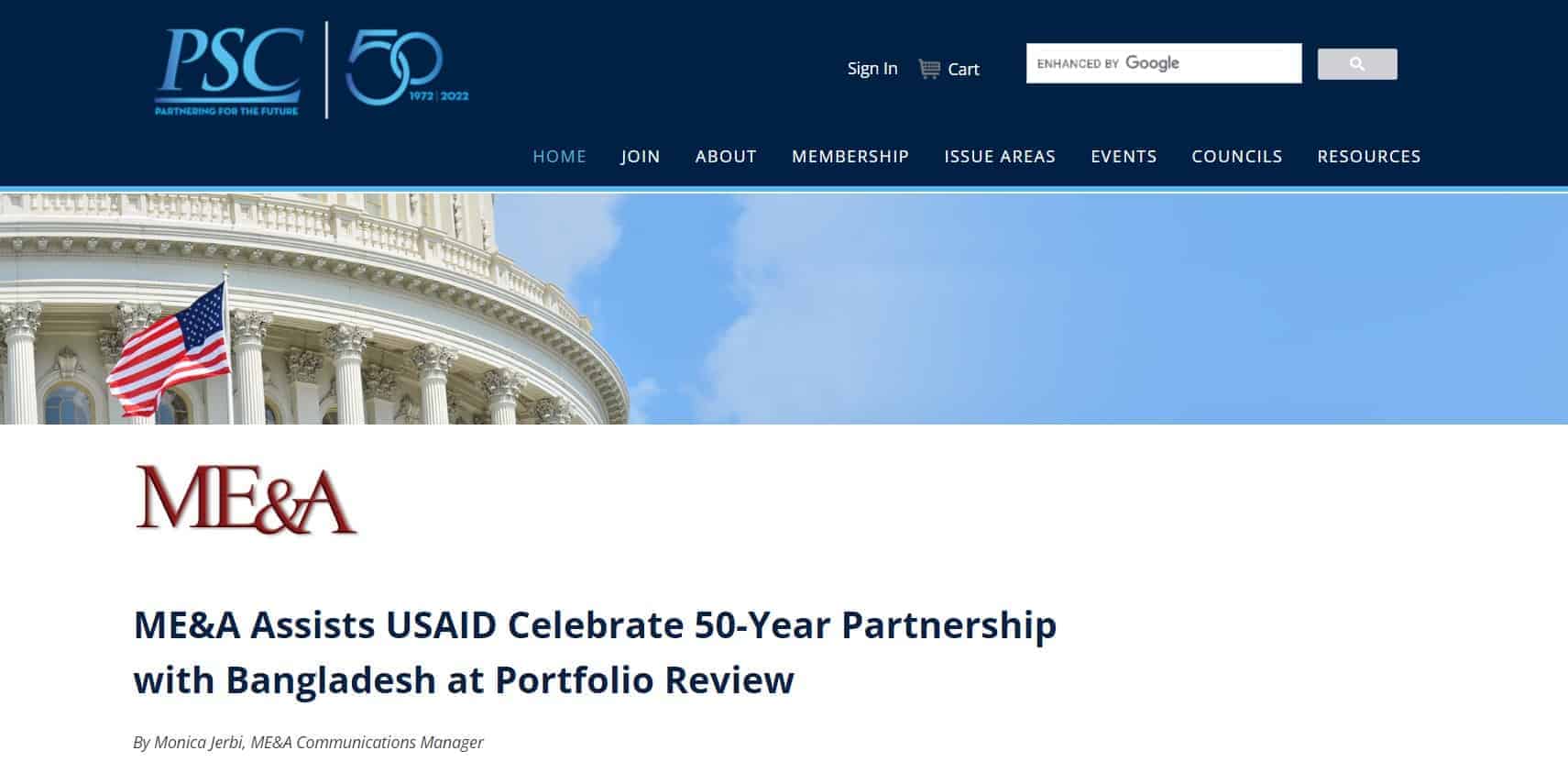 PSC Features ME&A's Monitoring, Evaluation, and Learning Work for USAID/Bangladesh
ME&A's monitoring, evaluation, and learning work on behalf of USAID in Bangladesh was featured in the June 9, 2022, "CIDC Now: International Development News" put out by the Professional Services Council (PSC) Council of International Development Companies (CIDC). The article showcased ME&A assisting USAID celebrate its 50-year partnership with Bangladesh at a two-day portfolio review event.
PSC also featured the article prominently on its website, including the homepage's "trending today" section. "CIDC Now: International Development News" goes to about 750 PSC members and U.S. government agency officials who have opted into the newsletter.
The article explained how ME&A assisted USAID/Bangladesh in putting on the March 30 and 31, 2022, event, including handling all logistical arrangements and event facilitation, through the ME&A-led USAID Bangladesh Monitoring, Evaluation and Learning (BMEL) Activity. Run from Dhaka, BMEL is a $9.4 million USAID contract enabling USAID/Bangladesh to collect and use relevant data to achieve Mission development objectives, enhance the capacity of Mission staff members in learning and knowledge management, and enable evidence-based programmatic decision-making. USAID/Bangladesh awarded BMEL to ME&A under the U.S. General Services Administration Federal Supply Schedule 874, Professional Services Schedule (PSS/MOBIS).
ME&A President and Chief Executive Officer Teresita Perez serves on the CIDC Advisory Board as former ME&A President and Chief Executive Officer Thomas England did for many years before her. ME&A has also been one of the sponsors of the Development Conference 2021, an annual PSC event, the past decade.