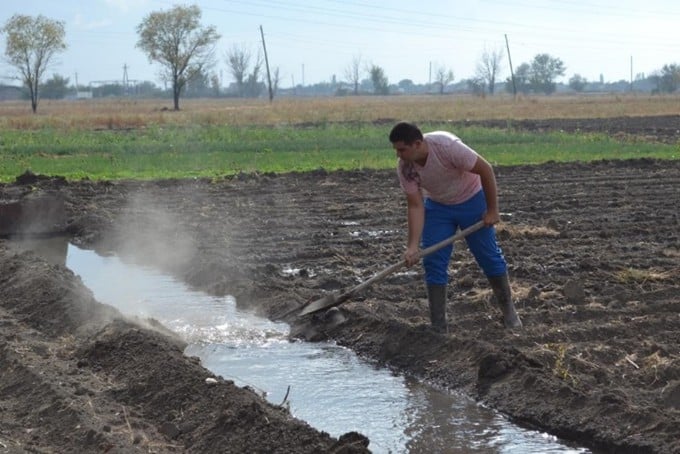 Sayat-Nova Community in Armenia Expands Irrigation Network
Re-using fish farm water for irrigation is showing enormous promise for keeping agricultural land fertile in Armenia's Ararat Valley, the country's breadbasket accounting for almost half of Armenia's agricultural production. Rolling out the environmentally sustainable innovation will result in more efficient use of the valley's groundwater and bring much needed irrigation water to the more than 30 local communities facing water shortages.
The community of Sayat-Nova has been using recycled discharge water from the nearby Masis-Dzuk fish farm since 2018, thanks to USAID funding and the Fund for Armenian Relief. The USAID-funded Advanced Science and Partnerships for Integrated Resource Development Project (ASPIRED), managed by ME&A, built the pumping station at the fishery's water discharge point and installed the irrigation network for 60 hectares of land. ASPIRED water quality tests show the fish farm water is suitable for irrigation and meets Food and Agriculture Organization standards.
About 140 hectares of arid land remains in the community of Sayat-Nova, and this land could be cultivated if re-usable Masis-Dzuk fish farm waters could reach the land. In February 2020, the community, with the help of ERGIS NGO and ASPIRED, received a grant from the Embassy of Japan in Armenia to expand the irrigation line to 60 hectares of land. The Japanese grant will also fund installing a solar photovoltaic system at the pumping station to minimize electricity consumption. In addition, the Armenian Territorial Development Fund agreed to support expansion of the irrigation network to the remaining land plots.
Thanks to the consistent efforts of multiple donors, about 300 households will gain an opportunity to cultivate farmlands that had been left idle for 15 years. Availability of affordable irrigation water will provide economic empowerment to local farmers, many of whom would otherwise become labor migrants in Russia and other countries. Helping prevent the valley's artesian wells and springs from drying up also ensures local communities have drinking water.
ASPIRED piloted the re-use of fish farm outlet water for irrigation to demonstrate more sustainable and responsible fish farm practices other communities in the valley can replicate. So far two communities—Hayanist and Sayat-Nova—are benefiting from the innovation and the return of 100 hectares of abandoned community farmlands back to cultivation, creating income-generating opportunities for 183 households.
The ME&A-led ASPIRED assists the Government of Armenia in developing consistent policy and technical solutions for a more regulated use of the nation's vital groundwater resources. ASPIRED focuses on closing data gaps, improving technical capacities and tools for informed decision-making, increasing access to innovative water conservation and energy efficiency technologies, and promoting regulatory and enforcement mechanisms. ME&A was awarded the ASPIRED project as a task order under the USAID Water and Development (WADI) Indefinite Delivery Indefinite Quantity Contract.