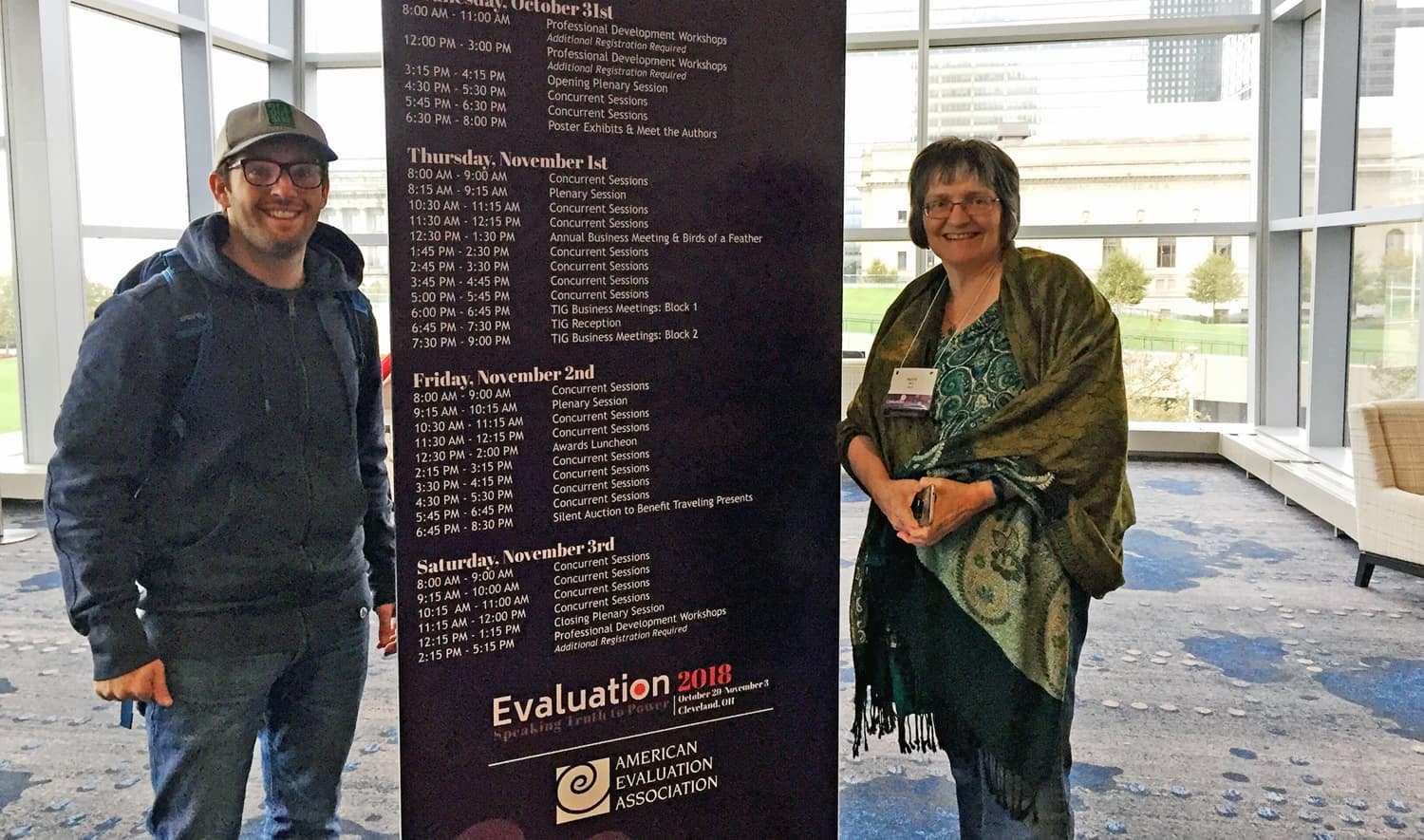 Truth and Power in Evaluations: ME&A Attends AEA's 32nd Annual Conference
Truth and power in evaluations was the focus of "Evaluation 2018," the American Evaluation Association's (AEA) 32nd Annual Conference taking place Oct. 31 to Nov. 3, 2018, in Cleveland, Ohio. Three ME&A staff members, led by Mirela McDonald, Vice President for Evaluation Services and Proposal Development, attended.
Evaluation 2018 brings together evaluators, evaluation scholars, students, and evaluation users from around the world to share and learn from the successes of the international discipline and practice of evaluation. The ME&A team of McDonald, Project Manager Christopher Coffman (left in the photo above), and Senior Monitoring and Evaluation Manager Patricia Hill (right in the photo above) will use the contacts and information they gathered to enhance ME&A's monitoring, evaluation, and learning (ME&L) work.
The conference explored:
What responsibilities do evaluators have to speak truth to power? When? In what contexts or situations? With what consequences? At what risk or cost? To whom, with what expectations?
What is power? Who has it, and how can they best be influenced? What is the power held by evaluators and evaluation?
What is truth? Whose truth? How can we best discover these truths?
What is speaking? Whispering? Public pronouncements? Influence? Activism? And by whom on behalf of whom?
AEA is an international professional association and the largest in its field. Its mission is to improve evaluation practices and methods worldwide, increase evaluation use, promote evaluation as a profession, and support the contribution of evaluation to the generation of theory and knowledge about effective human action. For more information about AEA, please visit www.eval.org.