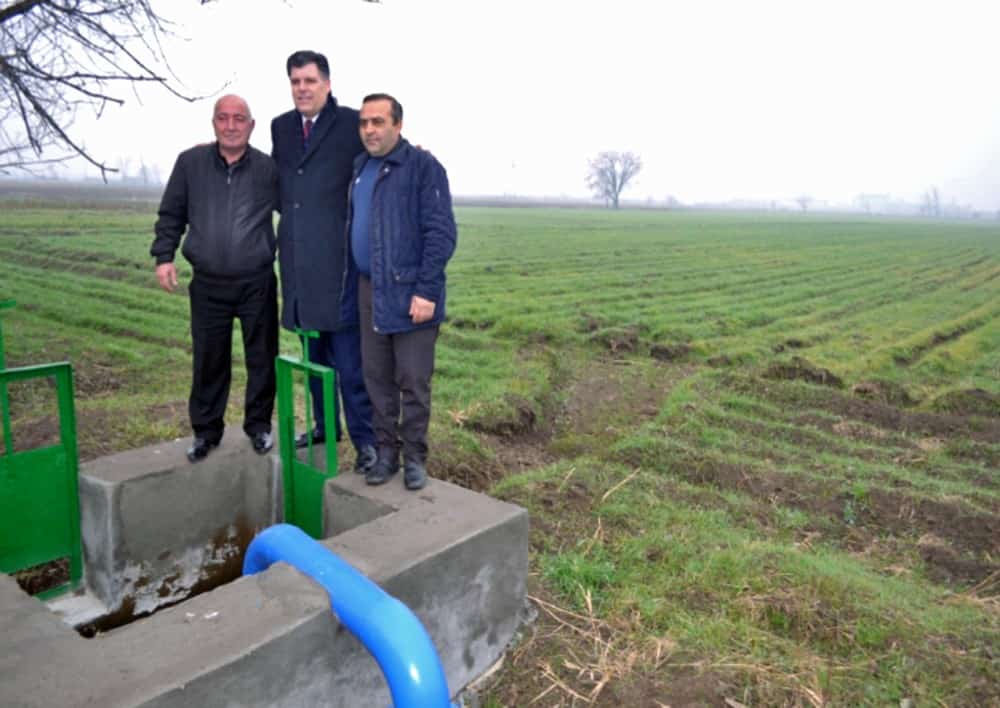 USAID Assistant Administrator Visits Project Re-using Water from Fish Farms for Irrigation in Armenia
USAID Assistant Administrator for Europe and Eurasia Brock Bierman recently visited Sayat-Nova village as part of his visit to Armenia to meet with the village mayor and local farmers to discuss the impact on the community of an Advanced Science and Partnerships for Integrated Resource Development (ASPIRED) partnership re-using water from fish farms for irrigation.
"The farmers got a chance to resume cultivation of their lands after 20 years of abandonment due to the lack of water. I am sure that more residents will engage into farming as they observe the work of their fellow farmers," Mayor Razmik Alaverdyan said during the visit.
Traditionally the most important agricultural region in Armenia, the Ararat Valley has experienced severe depletion of groundwater in recent years, drying up essential water sources in local communities and putting some at risk of desertification. A key cause is the exponential growth of fish farming. The ASPIRED project and its partners, including Coca-Cola Hellenic Armenia, the UNDP-GEF Small Grants Program, and the local community, used the Masis-Dzuk fish farm to demonstrate more sustainable and responsible fish farm practices other communities can replicate.
The new irrigation system serves 252 people from 98 households and has a potential for expansion to cover up to 190 hectares of community land, benefiting 2,400 local residents. It prevents almost 2 million cubic meters annually of strategically important groundwater from the Masis-Dzuk fish farm from being dumped into the wastewater network. It also prevents at least 60 hectares of soil degradation.
During Assistant Administrator Bierman's visit local farmers told him and Mayor Alaverdyan that they have already planted winter wheat this season and plan to grow more high-value crops next year to give them more income.
ME&A currently implements the ASPIRED project for the USAID Mission in Armenia. Begun in September 2015, ASPIRED is designed to support sustainable water resource management and sustainable practices of water users at the core of the water-energy nexus through the use of science, technology, innovation and partnerships approaches. The goal is to reduce the rate of groundwater extraction in Armenia's Ararat Valley to sustainable levels.