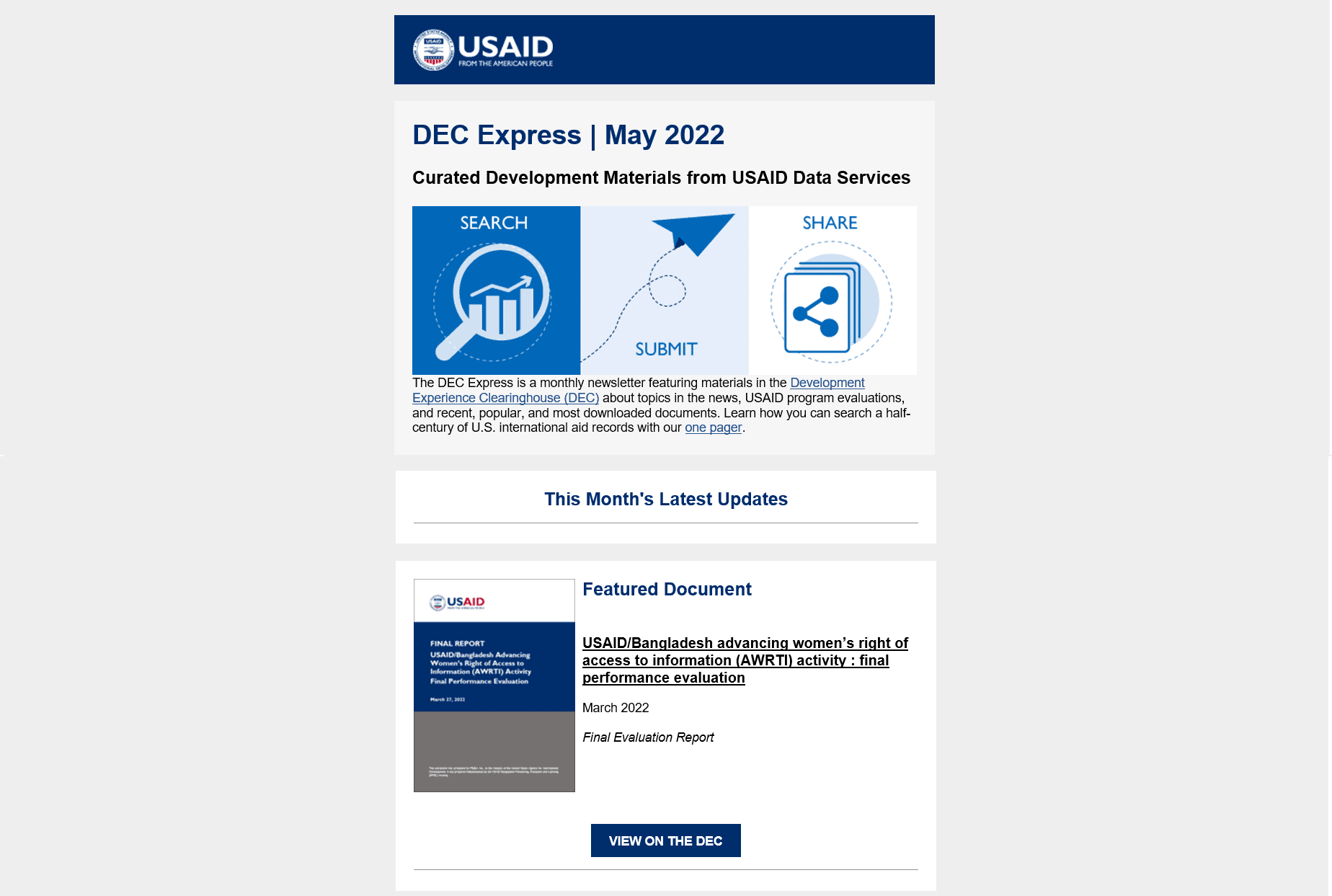 USAID DEC Express Newsletter Features ME&A Evaluation on Women and Information in Bangladesh
For the third time since last fall, the USAID DEC Express newsletter showcased a recent ME&A-led evaluation report as its "Featured Document." The "Featured Document" in the May 2022 edition was the March 2022 Final Evaluation Report on the USAID/Bangladesh Advancing Women's Right of Access to Information (AWRTI) activity conducted under the ME&A-led USAID Bangladesh Monitoring, Evaluation and Learning (BMEL) Activity.
The goal of AWRTI, the BMEL-evaluated activity, was "improved access to information for women in Bangladesh" under USAID's Development Objective (DO) 1: "Improved democratic systems that promote transparency, accountability, and integrity." The BMEL evaluation report featured provides an overview of the evaluation team's findings, conclusions, and recommendations based on key informant interviews, focus group discussions (FGDs), and online interviews.
Previously, the December 2021 DEC Express's "Featured Document" was the April 2021 Final Report for the Workforce Development Study conducted under the ME&A-led USAID/El Salvador Monitoring, Evaluation, and Learning Initiative (ME&L El Salvador), and the September 2021 edition's "Featured Document" was the July 2021 Mid-Term Performance Evaluation of Breakthrough Research: Local Lessons, Global Learning conducted under the ME&A-led USAID Global Health Evaluation and Learning Support Activity (GH EvaLS).
The DEC Express is a monthly newsletter featuring materials in the Development Experience Clearinghouse (DEC) about topics in the news, USAID program evaluations, and recent, popular, and most downloaded documents. To learn more or to subscribe, visit https://dec.usaid.gov/dec/content/decexpress.aspx#Subscribe.
The BMEL Activity, run from Dhaka, is a $9.4 million USAID contract enabling USAID/Bangladesh to collect and use relevant data to achieve Mission development objectives, enhance the capacity of Mission staff members in learning and knowledge management, and enable evidence-based programmatic decision-making. USAID/Bangladesh awarded BMEL to ME&A under the U.S. General Services Administration Federal Supply Schedule 874, Professional Services Schedule (PSS/MOBIS).