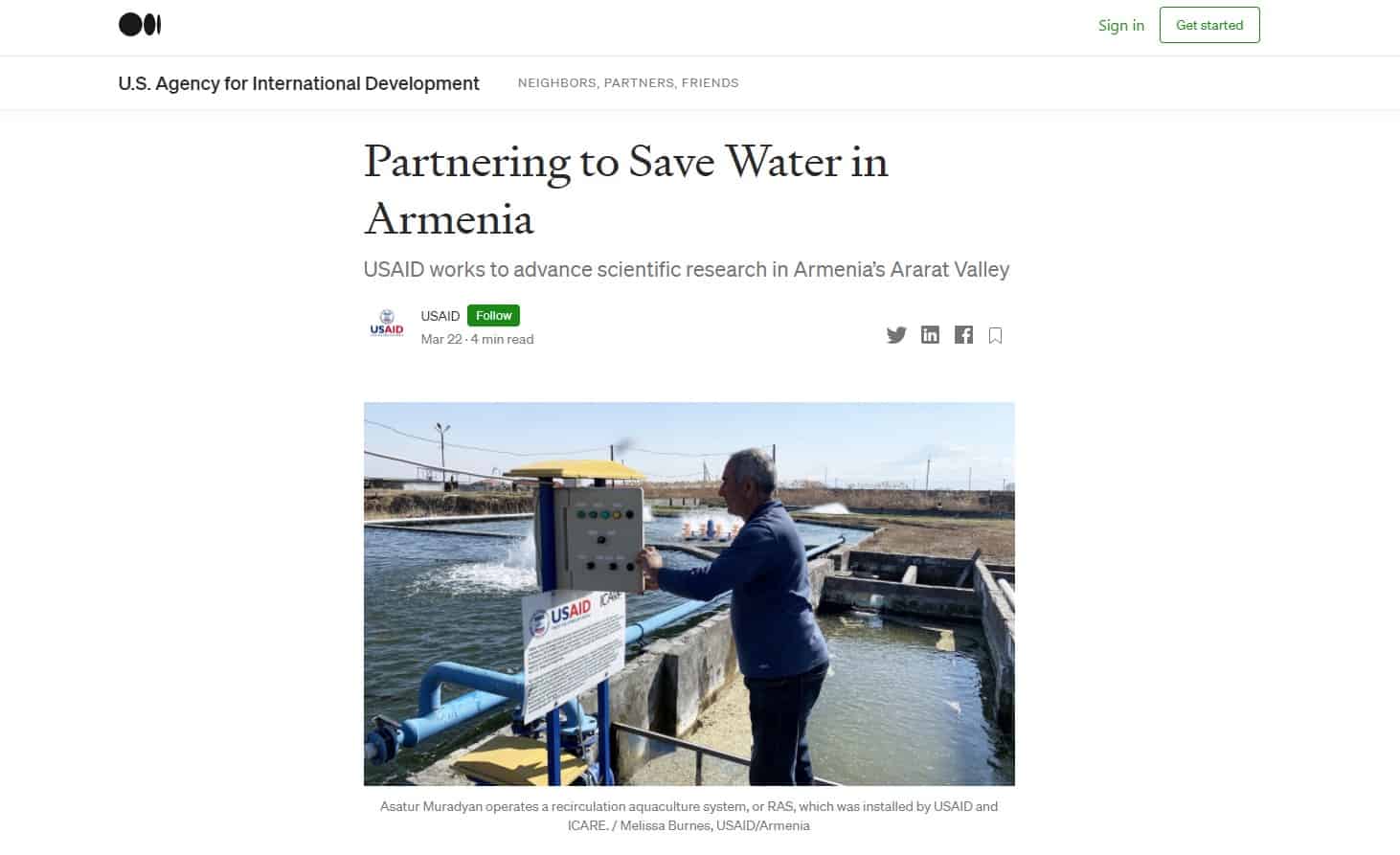 USAID Features ME&A-Led ASPIRED Project in World Water Day 2021 Article
On World Water Day 2021, USAID featured the ME&A-led Advanced Science and Partnerships for Integrated Resource Development (ASPIRED) project in Armenia in a special World Water Day article on the Medium platform. World Water Day, held on March 22 every year since 1993, focuses on the importance of freshwater.
The story focuses on how multiple USAID projects are partnering to conserve water and advance scientific research in Armenia's Ararat Valley. The Ararat Valley is considered Armenia's breadbasket, accounting for about 40 percent of the country's agricultural production. Unregulated fish farming in recent years, however, has strained the region's groundwater supply, drying up essential water sources in local communities and putting some at risk of desertification.
The Sustainable Fisheries for Enhanced Water Resources in Armenia (SFEWRA) project was the article's main focus along with its collaboration with ASPIRED and the Participatory Utilization and Resource Efficiency of Water project to advance research on water saving technologies and empower Armenia's scientific community, local governments, and the public to address the valley's water crisis.
USAID/Armenia awarded ASPIRED to ME&A as a task order under the Water and Development Indefinite Delivery Indefinite Quantity Contract (WADI) providing the USAID Bureau for Economic Growth, Education, and Environment with services and technical support to assist USAID's Missions, Bureaus, and Offices worldwide in the implementation of the Agency's Water and Development Strategy.
Under ASPIRED, ME&A collaborates with the USAID/U.S. Global Development Lab/Center for Data, Analysis, and Research (DAR), the U.S. Geological Survey, and other relevant institutions to pilot innovative technologies for water conservation and fish farms; establish transformational partnerships; and promote evidence- and science-based water resource monitoring, planning and management. In addition, ME&A also works with the private sector, academia, and other donors to leverage their resources and expertise in the Armenian water and energy sector.