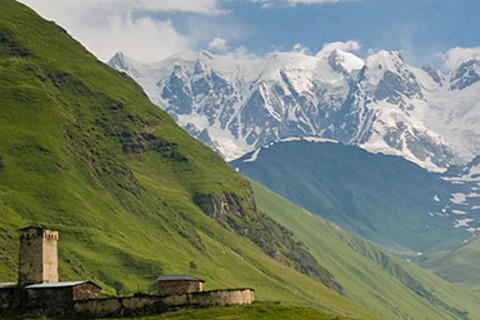 USAID/Georgia Evaluation Mechanism IQC
The USAID Mission in Tbilisi, Georgia awarded ME&A a five-year Indefinite Quantity Contract (IQC) to conduct external, independent performance and impact evaluations. As part of this IQC, ME&A with its partners is providing evaluation and assessment services under the Country Development Cooperation Strategy Development Objectives (DOs).
The multi-year contract supports all of USAID's DOs and intermediate results (IRs). ME&A's partners include NORC at the University of Chicago, the Association of Finance Officers of Georgian Local-Self Governing Units (AFOGLSU), the Caucasus Research Resource Center – Eurasia Partnership Foundation (EPF/CRRC), IT Research & Metadata Solutions (IRMS), the Policy and Management Consulting Group (PMCG), and the SIAR Research and Consulting Group.
Georgia Mechanism Evaluations:
Georgia Market and Sector Assessment (2017)
Georgia Democracy, Human Rights, and Governance Survey (2016-2019)
Mid-Term Performance Evaluation of the Restoring Efficiency to Agricultural Production Project (REAP) (2015)
External Impact Evaluation of USAID/Georgia Primary Education Project (G-PriEd) (2014-2015)
Final Performance Evaluation of USAID/Gerogia Sustaining Family Planning and Maternal and Child Health Services Project (Sustain) (2014)
Final Performance Evaluations of USAID/Georgia Municipal Infrastructure Project (MIP) and Internally Displaced, Persons Durable Housing Project (lOP DHP) (2014)
Mid-Term Performance Evaluation of USAID/Good Governance in Georgia (G3) program (2013)
Mid-Term Performance Evaluation of USAID/Advancing National Integration (ANI) Project in Georgia (2013)
Mid-Term Performance Evaluation of USAID/Gerogia Judicial Independence and Legal Empowerment Project (JILEP) (2013)
Mid-Term Performance Evaluation of the USAID/Georgia Power and Gas Infrastructure Project (PGIP) (2013)
Final Performance Evaluation of the Access to Mechanization Project (AMP) (2013)
Mid-Term Performance Evaluation of the Economic Prosperity Initiative (EPI) Project (2013)