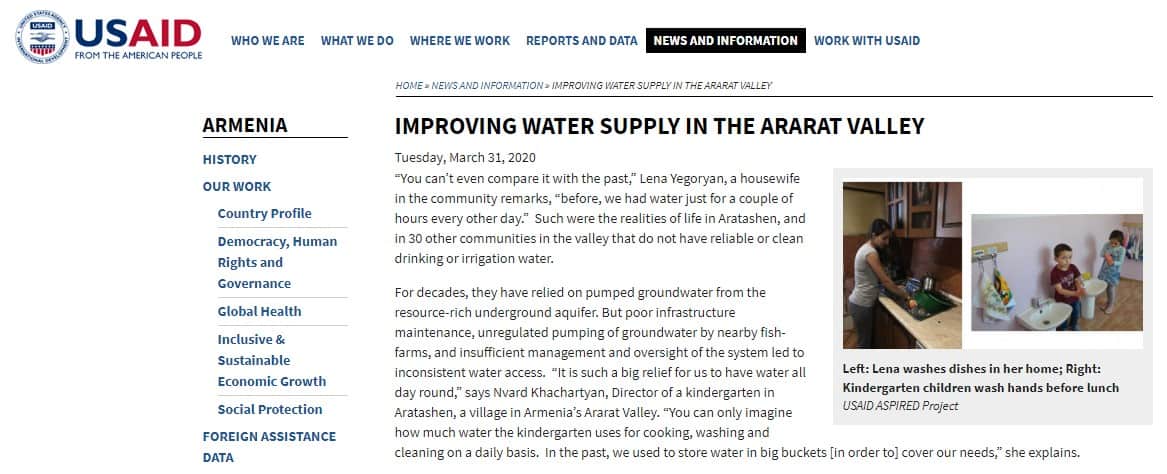 USAID Website Features Story on ASPIRED Bringing Armenian Village Potable Water
USAID recently published a story on its website about the Advanced Science and Partnerships for Integrated Resource Development (ASPIRED) project bringing nearly all 3,200 residents of the village of Aratashen in Armenia access to clean, potable water 24 hours a day.
The story on the Armenia section of the USAID website at https://www.usaid.gov/armenia/news-information/news/improving-water-supply-ararat-valley explains how the community worked with ASPIRED to identify the primary barriers to water access – poor infrastructure and insufficient regulation – and sought solutions to address them. ASPIRED then supported the community to install a new pumping station, replace 10 km of corroded piping and introduce a new consumption-based metering system.
The ME&A-led ASPIRED assists the Government of Armenia in developing consistent policy and technical solutions for a more regulated use of the nation's vital groundwater resources. ASPIRED focuses on closing data gaps, improving technical capacities and tools for informed decision-making, increasing access to innovative water conservation and energy efficiency technologies, and promoting regulatory and enforcement mechanisms. ME&A was awarded the ASPIRED project as a task order under the USAID Water and Development (WADI) Indefinite Delivery Indefinite Quantity Contract.