A Meditation on Earth Rebirth, RebEARTH Day, and Irreplaceable Heritage
Earth Day has come to mean many things for many people. Overwhelmingly, the environmentally conscious have come to see it as a call "not to return to business as usual." This year, on the annual April 22 celebration, I came across a video of an intriguing 2020 TED Talk by teenager Dakota Peebler entitled, "All I Want for My Birthday is to Kill Earth Day" She articulated a venomous challenge for the "gray hairs" to get their act together and make Earth Day irrelevant.
Ms. Peebler's well done TED Talk rekindled my commitment to Earth Day as a call to year-around activism. Her presentation used the term, "RebEARTH Day," signifying Earth Rebirth Day, and promoted the #rebEARTHday hashtag. Reframing Earth Day as RebEARTH Day calls to me as a challenge to "take the necessary but difficult action" to move to a better, more vital Earth. Working in international development, however, I instantly found myself thinking in terms of mitigation and adaptation and policies, all of which she laments have not had enough of an impact as the climate change clock continues to tick with her and future generations to suffer the consequences.
In 2022, the environmental community, in fact, echoes Ms. Peebler's call to action, moving Earth Day to a year-long call for Earth restoration. Many of the greatest minds in the environmental sciences are trying to determine how to address the issue of restoration. Is it restoration through natural processes and regrowth? Is it a mature approach to ecological restoration through protected area management? Is it restoration through mitigating the socioeconomic drivers of ecosystem impacts?
For myself, the answer to the above is restoration as a practice involving all of these mechanisms and more. But what if restoration is not possible? What if one experiences Earth as heritage – as that rich phenomenological tapestry that, in the words of the UN World Heritage Convention, "is our legacy from the past, what we live with today, and what we pass on to future generations Our cultural and natural heritage are both irreplaceable sources of life and inspiration"?
I think of myself as an individual living within the context of a vibrant, meaningful world defined by its heritage and, to be honest, it is only rarely that I am able to step outside of this context and think of myself as an entity existing in a physical climate system. We have done much to degrade both our climate and our heritage but, on a daily basis, the latter weighs more heavily on me than the former, especially considering the current destruction of Ukraine's cultural and natural heritage.
I attended Leuven University In Belgium whose library has experienced a more dramatic history than most in the world. Established only a few years after the founding of the university in 1425, it collected rare books and manuscripts over the centuries, only to lose them to France after the French revolution. The library was later destroyed by fire not once, but twice – in both world wars. While the library was built again, rare books and manuscripts that burn cannot be replaced.
I think of my alma mater's library when I ponder the importance of the irreplaceable. There can be no rebEARTH Day for heritage. For this reason, the next time I prepare a development report, I will take the "necessary but difficult action" to consider not just elements of ecological restoration but also what the World Heritage Convention refers to as the "Outstanding Universal Value" of our Earth.
About the Author
Latest Posts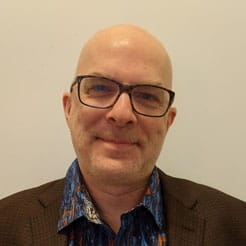 Benjamin White is ME&A's Lead Technology Solutions Strategist providing development geospatial expertise along with advanced data collection, analysis, and reporting capabilities. He is a senior geospatial and data science professional with 20 years of experience with geography, remote sensing, and GIS with sub-specialties in land use, forestry, climate, carbon accounting, and climate change policy.