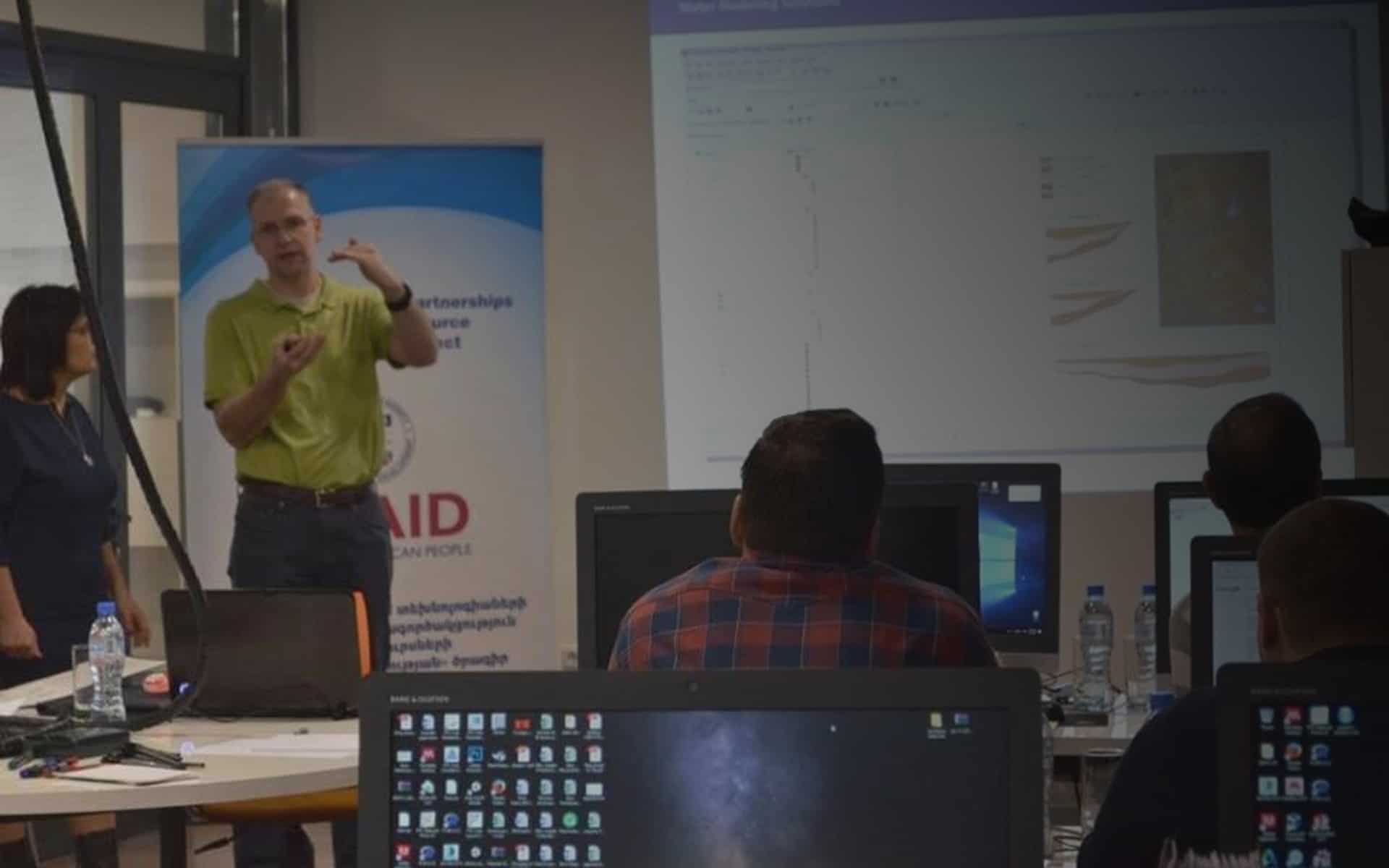 Making Better Decisions Using Geographic Information Systems
Making better decisions using geographic information systems and contextual tools for mapping was the topic of a five-day training starting Jan. 15, 2018, under the U.S. Agency for International Development (USAID) funded ASPIRED Project.
The training on Stratigraphic and Groundwater Modeling with Arc Hydro Groundwater (AHGW), Groundwater Modeling System (GMS), and MODFLOW software applications was delivered by U.S.-based AQUAVEO, which provides GIS-based software solutions for hydraulic, hydrologic and groundwater modeling. AQUAVEO is responsible for the development, distribution, training, and technical support for the AHGW and GIS data model and tools.
Course participants are specialists from the ASPIRED Project, Water Resources Management Agency and Environmental Monitoring and Information Center of the Armenian Ministry of Nature Protection (MNP). Various academic institutions including the American University of Armenia, Yerevan State University, Institute of Geological Sciences of the National Academy of Sciences of Armenia International Agribusiness Teaching Center/National Agrarian University also participated. The current course builds on the GIS training for beginners conducted by an ASPIRED GIS specialist for the MNP staff in December 2017. More advanced GIS specialists will be coached to serve as trainers in the future.
ME&A implements the Advanced Science and Partnerships for Integrated Resource Development (ASPIRED) Project for the USAID Mission in Armenia. Begun in September 2015, ASPIRED is designed to support sustainable water resource management and sustainable practices of water users at the core of the water-energy nexus through the use of science, technology, innovation and partnerships approaches. The goal is to reduce the rate of groundwater extraction in Armenia's Ararat Valley to sustainable levels.