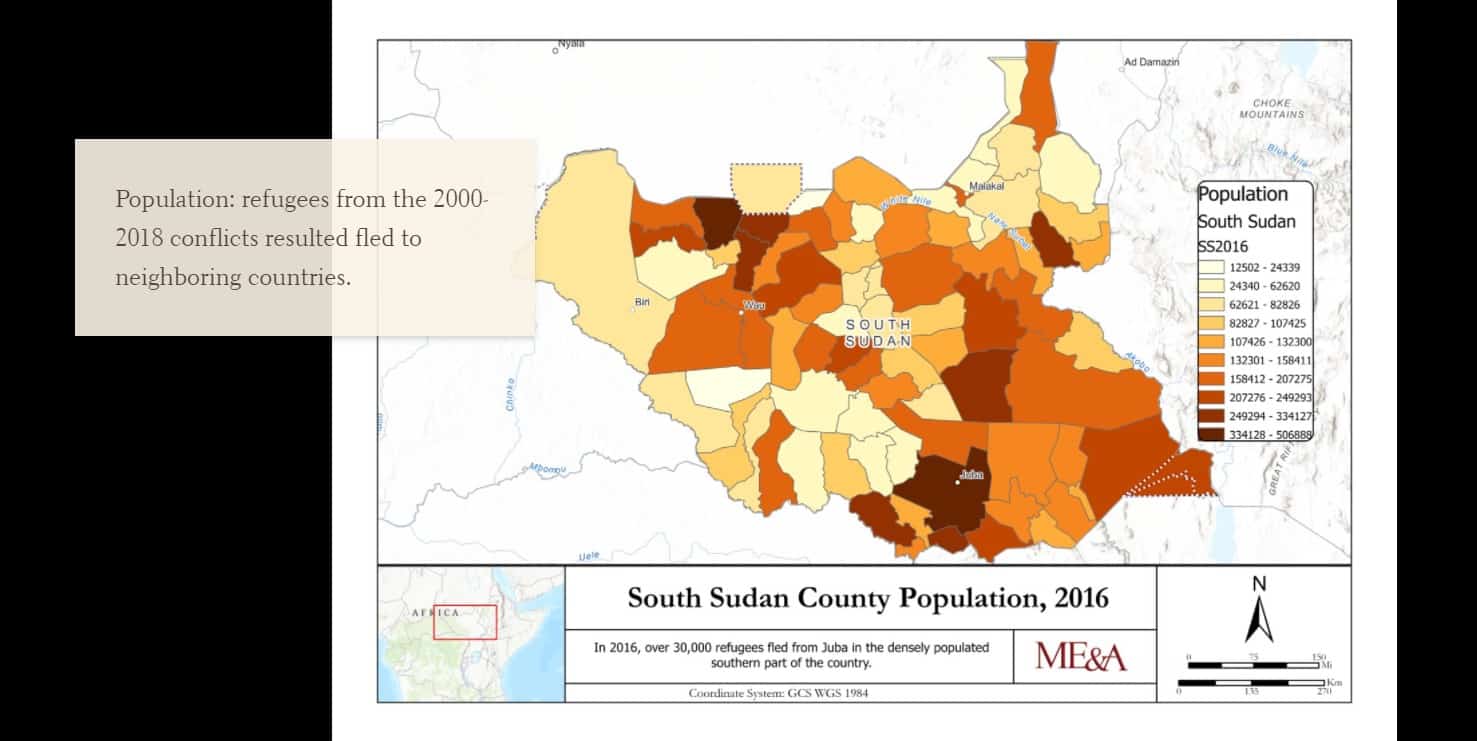 New Digital Technologies and Research Unit Drives Innovation at ME&A
Will there be enough food to feed a certain country next year? How much carbon is sequestered in a rainforest? Where are the hotspots for the spread of zoonotic diseases? How will climate change affect coastal cities?
In response to these and other similar questions and challenges, ME&A has created a new Digital Technologies and Research Unit (DTRU). The DRTU combines expertise in economics, geography, geographic information systems (GIS), remote sensing, research, and analysis to expand the digital toolkit ME&A has been using during the pandemic to provide innovative, cost-effective solutions to international development challenges.
"We want to think strategically and be proactive about integrating geospatial technologies and advanced analytical methods into our work to add greater value to the products and services we deliver to clients," said Gary Woller, Ph.D., who directs the new unit. "Contemporary approaches in geospatial science and technology allow us to address development hotspots on local to global scales. DTRU provides the data collection, analysis, and reporting tools necessary to enable better, more informed decision-making with these new technologies."
Dr. Woller, a former professor at the Marriott School of Management at Brigham Young University, has designed and implemented dozens of evaluations and project performance monitoring systems in more than 30 countries across Asia, Africa, Eastern Europe, and Latin America for USAID, the U.S. Department of State, the Inter-American Development Bank, and the World Bank among others. He also currently serves as ME&A's Chief of Party for the Feed the Future Global Program Evaluation for Effectiveness and Learning (PEEL).
Other members of the DTRU are Benjamin White, geospatial architect with more than 20 years of experience with geography, remote sensing, and GIS; Christopher Coffman, senior project manager with a decade of experience in data collection and analysis and project management; Ricky Perez, GIS specialist with experience mapping across the Latin America and the Caribbean; and Thomas G. England, GIS specialist with expertise in storymaps, photography, and video.
"The DTRU unit will leverage the value of spatial analysis and the science and technology that is associated with it to augment ME&A's current analysis, evaluations, and projects and facilitate ME&A's movement into new strategic directions," White said. "A short-term goal is to move the paradigm from looking at GIS as just GIS to a more integrated perspective using a 'geographical approach' — basically a more comprehensive look at what it means to think geographically versus just using a tool."
The DTRU will also provide technical training both to ME&A staff and external clients in the use of advanced research, analysis, and geospatial technologies and practices.
"We have provided GIS training services for USAID implementing partners in El Salvador, and we are now being requested to provide training in GIS to USAID/Guatemala," said Perez, who also serves as a GIS specialist on the USAID Monitoring, Evaluation and Learning Initiative in El Salvador (ME&L El Salvador). "Moreover, the DTRU advises projects in the field about the use of GIS tools related to data collection and mapping. This enhances the use of GIS tools across ME&A activities and represents an opportunity to collect georeferenced data for mapping."
Besides El Salvador and Guatemala, ME&A-led projects for USAID in Armenia, Bangladesh, and Tanzania currently incorporate GIS and other digital tools. Moreover, many of the more than 200 evaluations and assessments ME&A has conducted in over 50 countries worldwide have included advanced data collection and analysis and digital tools, including remote methods.
The DTRU also uses Esri storymaps to chart USAID assistance and development challenges in countries like El Salvador, Tanzania, and South Sudan.