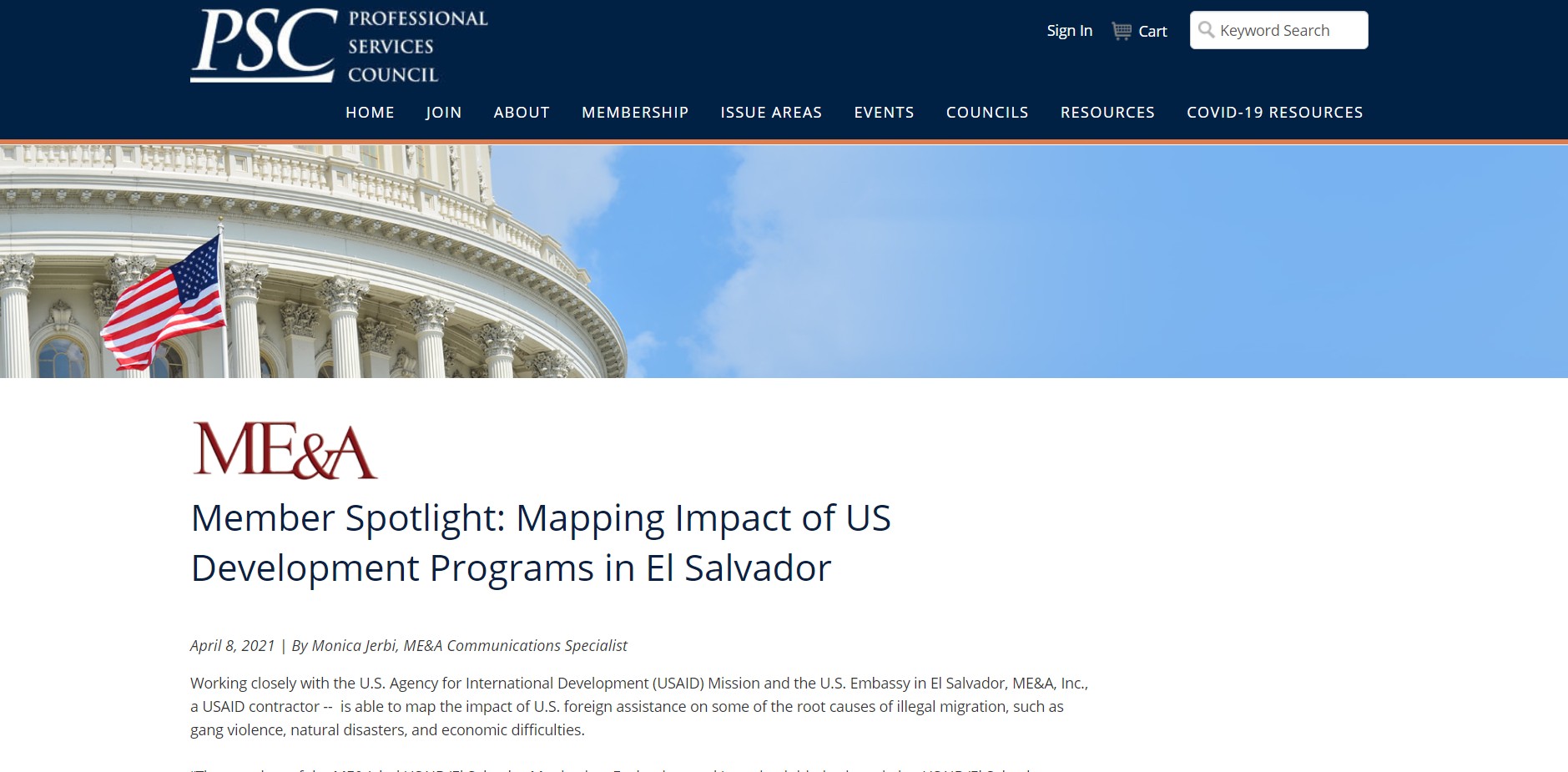 Professional Services Council Showcases ME&A's GIS Mapping Work in El Salvador
The Geographic Information System (GIS) maps the ME&A-led USAID/El Salvador Monitoring, Evaluation and Learning (ME&L El Salvador) project prepares for the U.S. Embassy and USAID Mission in El Salvador were featured prominently in two April newsletters of the Professional Services Council (PSC). PSC is the national trade association of the government professional and technical services industry.
The newsletter article highlighted how the GIS maps chart the impact of U.S. foreign assistance on some of the root causes of illegal migration, such as gang violence, natural disasters, and economic difficulties. Since the ME&A-led initiative began in 2016, its GIS team has produced some 250 maps for the USAID Mission and Embassy related to migration along with other issues, such as remittances, environmental management, and COVID-19 and natural disaster relief. The initiative also provides similar GIS services to USAID in Guatemala.
The article on the ME&L El Salvador initiative was the lead article in the PSC Council of International Development Companies' April 2021 CIDC Now International Development News. The article was also featured in PSC's April 9, 2021, Weekly Highlights and on the PSC website.
ME&A implements the five-year ME&L El Salvador initiative for the USAID Mission in El Salvador. ME&A's team provides USAID/El Salvador and other missions in the region continued performance monitoring, verification, GIS services, and evaluation support to measure program impact, results, and achievements. USAID/El Salvador awarded ME&A the ME&L El Salvador task order in 2016 under the Policy, Planning and Learning-Learning, Evaluation and Research (PPL-LER) IDIQ Contract to provide evaluation, monitoring, and assessment services for USAID Missions and Offices worldwide.