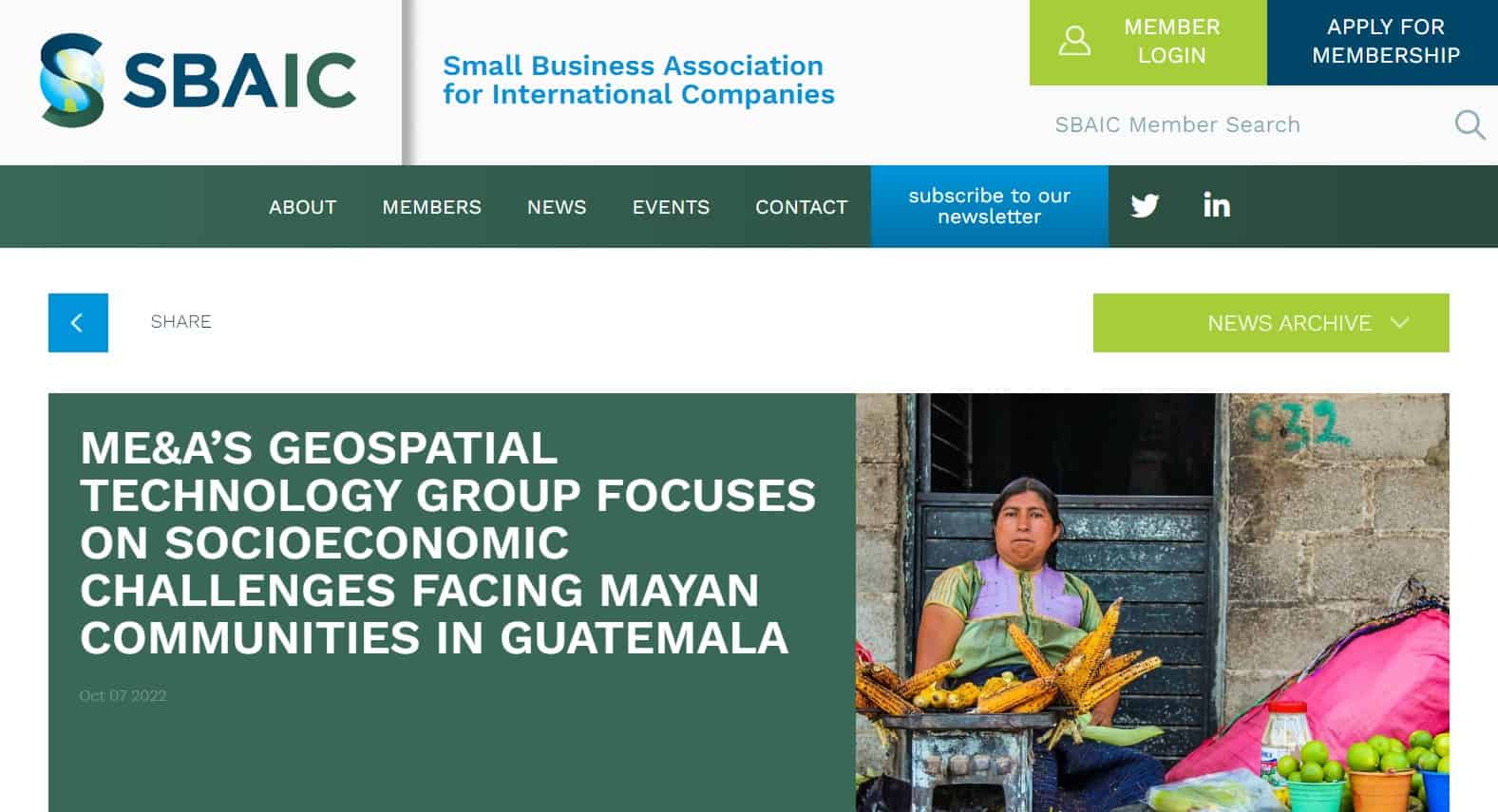 SBAIC Newsletter Highlights ME&A's GIS Maps Featured at 2022 Esri User Conference
The 2022 Esri User Conference showcasing a map created under the ME&A-led, USAID-funded Monitoring, Evaluation and Learning Project in El Salvador (ME&L El Salvador) for the second time was recently featured in the Small Business Association for International Companies (SBAIC) newsletter and website.
The article explains how the July 2022 event, the largest global annual event about geographic information system (GIS) technology, also featured a second related map and poster created under ME&A's Geospatial Technology Group (GTG). The maps and poster focused on socioeconomic challenges facing the Mayan population in Guatemala leading many to abandon their native lands in search of better opportunities.
In 2019, the Esri Conference featured three maps produced under the ME&L El Salvador project related to migration, homicide rates and biodiversity. The article quoted ME&L El Salvdor Chief of Party Randal Thompson, Ph.D.: "GIS, data, and digital technologies enable USAID to make data-driven decisions – a game changer for development interventions, They dramatically enhance knowledge about aid quality and geographic impact, especially critical in an area like the Northern Triangle where the economic and political situation directly impacts the United States."
ME&A was the prime contractor for the recently completed ME&L El Salvador Project (2016 to 2022), providing extensive monitoring, evaluation, and learning services to USAID/El Salvador and other USAID missions in Central America. Under the project, ME&A mapped the impact of U.S. foreign assistance on some of the root causes of irregular migration from Central America — such as gang violence, natural disasters, and economic difficulties – for the USAID Missions in El Salvador and Guatemala.
The ME&L El Salvador team completed more than 300 GIS maps on migration and other topics as well as provided GIS training for USAID implementing partners. Many of the maps were produced at the request of the U.S. Ambassador to El Salvador and some were presented at U.S. Department of State hearings before Congress. More than 50 of them were for USAID/Guatemala.
SBAIC is a membership organization established to promote the meaningful utilization of U.S. small businesses at U.S. government agencies providing foreign assistance, such USAID; the Millennium Challenge Corporation; Overseas Private Investment Corporation; and the U.S. Departments of State, Defense, Health and Human Services, and Agriculture.