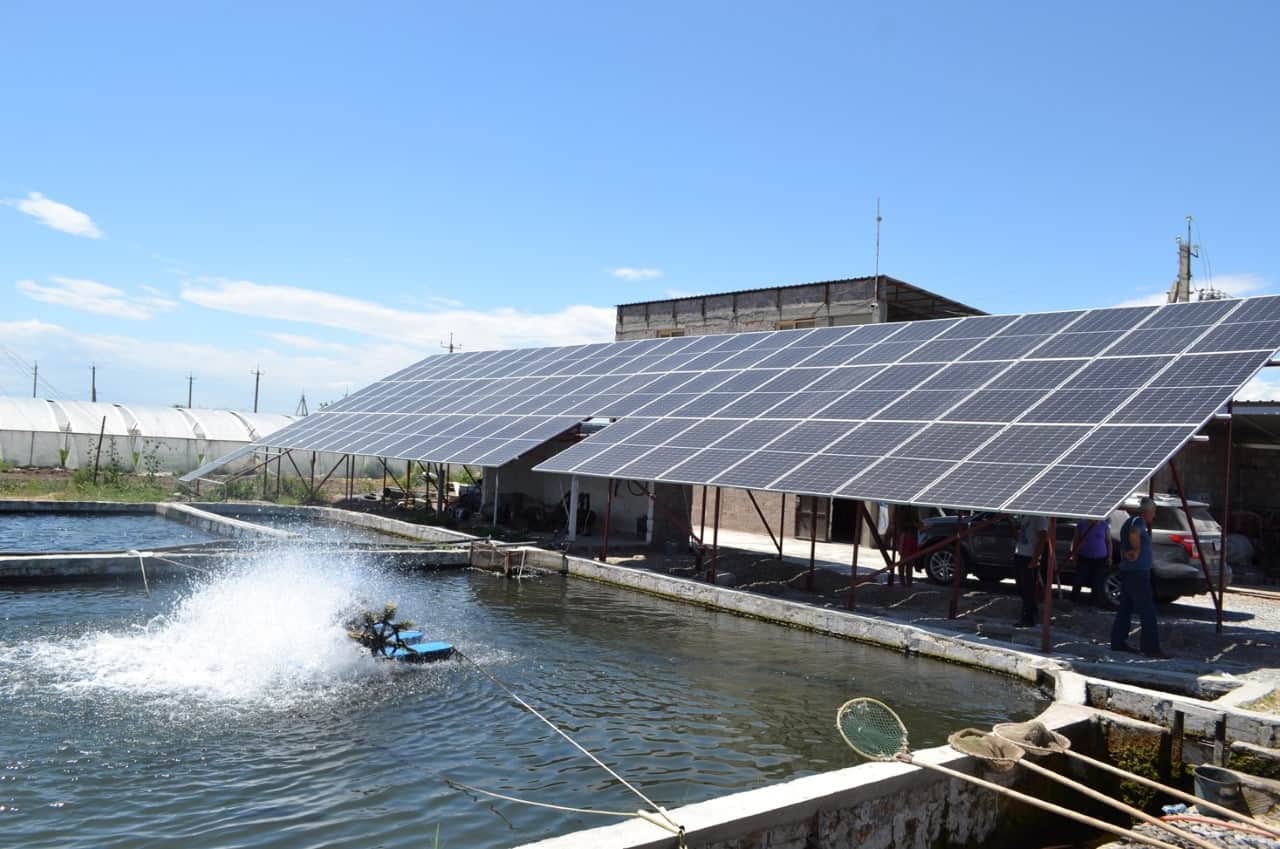 Solar Application Reduces Energy Consumption at Fish Farm in Armenia's Ararat Valley
A new solar photovoltaic system was recently installed in a fish farm in the village of Hovtashat in Armenia's Ararat Valley with support from the ME&A-led, USAID-funded Advanced Science and Partnerships for Integrated Resource Development (ASPIRED) project in Armenia. The 30 KW PV system helps offset extra energy costs from the use of recently upgraded aerators and recirculation pumps that provide more efficient water use.
Considered Armenia's breadbasket, the Ararat Valley accounts for about 40 to 50 percent of the country's agricultural production. Unregulated fish farming in recent years, however, has strained the region's groundwater supply, drying up essential water sources in local communities and putting some at risk of desertification. ASPIRED pilots technologies to make fish farming and agriculture production able to co-exist in an environmentally sustainable way. Besides the energy efficient solar powered aeration system, ASPIRED has also piloted recycling fish farm water for irrigation.
The privately owned fish farm ASPIRED supported uses a water recirculation system that replicates technologies ASPIRED piloted at the government's Aquaculture Technologies Transfer Center. It uses air lift pumps for enriching water with oxygen and passive settlers for sludge removal, consuming more energy and increasing production costs. That is where the solar application comes in. Use of the solar voltaic system is an environmentally friendly alternative to compensate for extra energy costs. 
The farm produces about 90 tons of fish annually and uses only 40 liters of water per second. The production rate is 2.25 tons of fish for the water flow of one liter/second, which is nearly three times more fish than the industry accepted standard of 800 kilograms. The energy saving is estimated to be 46 megawatt hours annually while the total energy consumption of the fishery is about 350 megawatt hours annually.
Under ASPIRED, ME&A collaborates with the USAID/U.S. Global Development Lab/Center for Data, Analysis, and Research (DAR), the U.S. Geological Survey, and other relevant institutions to pilot innovative technologies for water conservation and fish farms; establish transformational partnerships; and promote evidence- and science-based water resource monitoring, planning and management. In addition, ME&A also works with the private sector, academia, and other donors to leverage their resources and expertise in the Armenian water and energy sector.