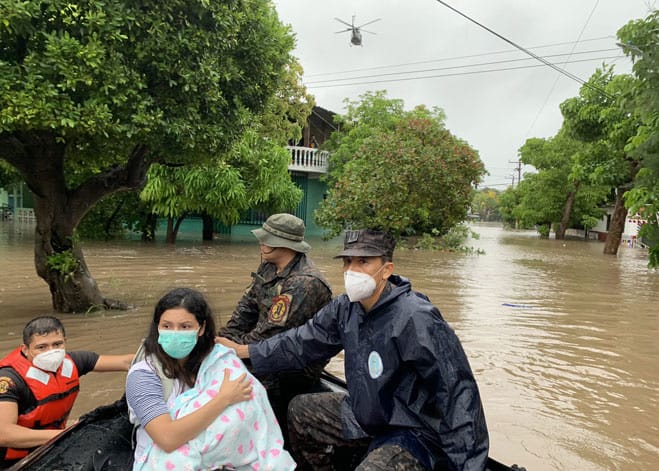 ME&A Team in El Salvador Assists USAID Coordinate Tropical Storm Amanda Humanitarian Aid
The USAID/El Salvador Monitoring, Evaluation and Learning (ME&L El Salvador) project is assisting USAID provide humanitarian support to El Salvador following Tropical Storm Amanda, which brought historic rainfall to the country at rates that exceeded four inches per hour. The rainfall, flooding, and landslides from Tropical Storm Amanda affected some 150,000 people and increased food insecurity for some 336,000.
With more than 4,800 cases of COVID-19 in El Salvador, the $3.1 million in U.S. support for Tropical Storm Amanda relief will help displaced people repair their homes and move out of shelters – as soon as it is safe to do so – to limit the risk of exposure to the disease.
The ME&A-led ME&L El Salvador project contribution to Tropical Storm Amanda relief is geographic information system (GIS) maps, dashboards, and data analytics to enable USAID and the U.S. Embassy to track the devastation the storm left behind. Not only has the ME&A team's research and visualizations been instrumental to U.S. government humanitarian assistance, other international humanitarian organizations have made use of them as well.
"One of the functions of our project is data analysis. We are always happy to assist the USAID Mission and other U.S. government agencies in analyzing and visualizing data," said Dr. Randal Thompson, ME&L El Salvador Chief of Party. "The purpose of our current research is to assist USAID in managing U.S. humanitarian relief for Tropical Storm Amanda and COVID-19."
ME&L El Salvador GIS and data analytics experts created the GIS maps and dashboards while working from home remotely in accordance with ME&A mandatory telework policy during the pandemic. The team regularly produces and analyzes maps and data for USAID/El Salvador and the U.S. Embassy's data-driven decision-making. Eight of these GIS maps on the environmental, economic, and social challenges facing El Salvador were displayed at the 2019 ESRI (Environmental Systems Research Institute) User Conference in San Diego, Calif., in 2019.
USAID/El Salvador awarded ME&A the ME&L El Salvador task order in 2016 under the Policy, Planning and Learning-Learning, Evaluation and Research (PPL-LER) IDIQ Contract to provide evaluation, monitoring, and assessment services for USAID Missions and Offices worldwide.