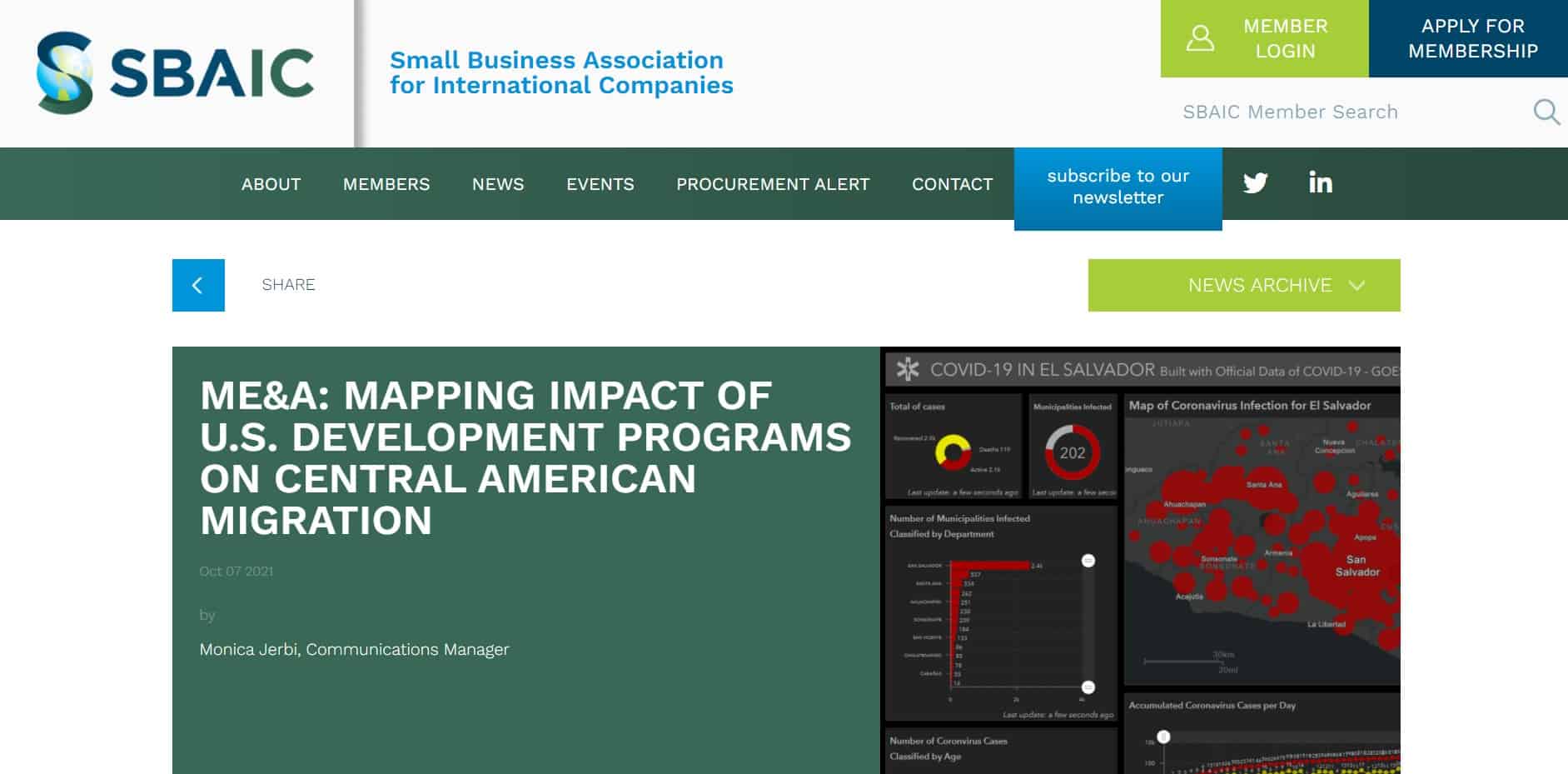 SBAIC Newsletter Highlights ME&A's Mapping of Central American Migration
ME&A's work mapping the impact of U.S. foreign assistance on irregular migration from Central America for the U.S. Embassy in El Salvador and USAID Missions in El Salvador and Guatemala was recently featured in the Small Business Association for International Companies (SBAIC) newsletter and website.
The newsletter article highlighted how the ME&A-produced Geographic Information Systems (GIS) maps chart the impact of U.S. foreign assistance on some of the root causes of irregular migration, such as gang violence, natural disasters, and economic difficulties. Since the USAID/El Salvador Monitoring, Evaluation, and Learning (ME&L El Salvador) initiative began in 2016, its GIS team has produced some 300 maps for the U.S. Embassy and USAID Missions in El Salvador and Guatemala related to migration along with other issues, such as remittances, environmental management, and COVID-19 and natural disaster relief.
The article includes a quote from Randal Thompson, Ph.D, ME&L El Salvador Chief of Party, on how GIS, data, and digital technologies are a game changer for USAID in making data-driven decisions. It also includes a quote on GIS training and tools for collecting georeferenced data for mapping from Ricky Perez, who serves as a GIS specialist for ME&L El Salvador and as a member of ME&A's Digital Technologies and Research Unit (DTRU).
The SBAIC article goes on to discuss ME&L El Salvador's performance monitoring, verification, and evaluation support work for USAID/El Salvador and how, upon request, ME&L El Salvador also provides USAID missions similar services in Guatemala, Honduras, Mexico, and Nicaragua. This approach maximizes USAID resources in addressing issues requiring collaboration across countries. Six of the ME&A-led initiative's 31 performance monitoring, evaluation, and assessment activities so far have been for Guatemala, Mexico, and Nicaragua.
ME&A implements the five-year ME&L El Salvador initiative for the USAID Mission in El Salvador. ME&A's team provides USAID/El Salvador and other missions in the region continued performance monitoring, verification, GIS services, and evaluation support to measure program impact, results, and achievements. USAID/El Salvador awarded ME&A the ME&L El Salvador task order in 2016 under the Policy, Planning and Learning-Learning, Evaluation and Research (PPL-LER) IDIQ Contract to provide evaluation, monitoring, and assessment services for USAID Missions and Offices worldwide.
SBAIC is a membership organization established to promote the meaningful utilization of U.S. small businesses at U.S. government agencies providing foreign assistance, such USAID; the Millennium Challenge Corporation; Overseas Private Investment Corporation; and the U.S. Departments of State, Defense, Health and Human Services, and Agriculture.