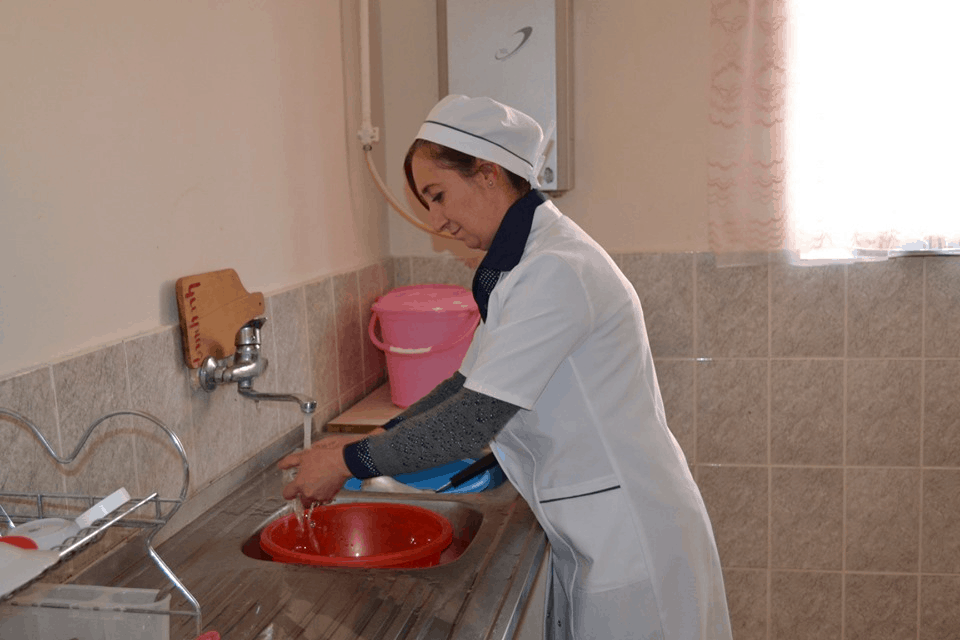 ASPIRED Helps Residents of Armenia's Ararat Valley Cope with COVID-19 Pandemic
Long-neglected water and sanitation issues in countries around the world are gaining new attention amid the global COVID-19 crisis. Access to clean, potable drinking water 24 hours a day prevents people from having to spend their money or time gathering or buying water in large crowds in violation of social distancing guidelines and also enables them to wash their hands frequently and practice proper sanitation during the pandemic.
ME&A is proud that our work creating innovative approaches to address water and natural resource needs is now enabling the people we serve to better cope with COVID-19. Nowhere is that more apparent than in Armenia's Ararat Valley where the work of the USAID-funded Advanced Science and Partnerships for Integrated Resource Development (ASPIRED) is helping citizens face COVID-19 more prepared.
"Effective chlorination enabled after installation of modern chlorinators in Aratashen and Yeghegnut improves the safety of water and rules out the danger of water-born diseases that would make people more susceptible to COVID-19," said ASPIRED Chief of Party Magda Avetisyan. "Previously people used to crowd around water-trucks to buy potable water, thus creating a favorable environment for spreading of the infection. Now the drinking-quality water is available from their taps."
ASPIRED recently supported the community of Aratashen to install a new pumping station, replace 10 km of corroded piping, and introduce a new consumption-based metering system. ASPIRED also helped build a new water pumping station in the village of Yeghegnut last year along with installing 15 km of pipes, 490 water meters, and a new billing and collection software for water service.
Avetisyan further pointed to the anti-COVID-19 benefits of the ASPIRED project's re-use water from fish farms for irrigation in the villages of Sayat-Nova and Hayanist rather than dumping it into the wastewater network. The villages would otherwise face shortages for both drinking and irrigation water, hurting farmers and negatively impacting the socio-economic situation locally and nationally during the pandemic. The Ararat Valley is Armenia's breadbasket accounting for almost half of the country's agricultural production.
"Improved irrigation systems provide availability of irrigation water for farmers to cultivate agricultural lands. As part of the project, trainings were provided to local farmers on applying the best agricultural practice in cultivation of crops," she said. "The latter helps to tackle social consequences of the pandemic and ensure availability of agricultural products, both on a local and national level."
Other ASPIRED benefits include:
Availability of irrigation water in Hayanist, Sayat Nova, Hovtashat, and Pokr Vedi, following the respective ASPIRED projects, increased self-employment opportunities for the rural population, which is critical in this period of self-isolation and possible economic strains.
The dramatic reduction (if not elimination) of breakages in the water-supply and irrigation networks, due to the use of reliable technologies and sustainable materials, reduces the manpower input for operation and maintenance, thus cutting-down the opportunities for spreading of the infection.
Increased use of online/advanced tools will support operational awareness during the pandemic. The Government of Armenia may make better use of the online system of groundwater use monitoring and the Decision Support System. In addition, the government can make the enhanced State Water Cadaster Information System online and accessible by relevant government agencies for data exchange.
The ME&A-led ASPIRED assists the Government of Armenia in developing consistent policy and technical solutions for a more regulated use of the nation's vital groundwater resources. ASPIRED focuses on closing data gaps, improving technical capacities and tools for informed decision-making, increasing access to innovative water conservation and energy efficiency technologies, and promoting regulatory and enforcement mechanisms. ME&A was awarded the ASPIRED project as a task order under the USAID Water and Development (WADI) Indefinite Delivery Indefinite Quantity Contract.