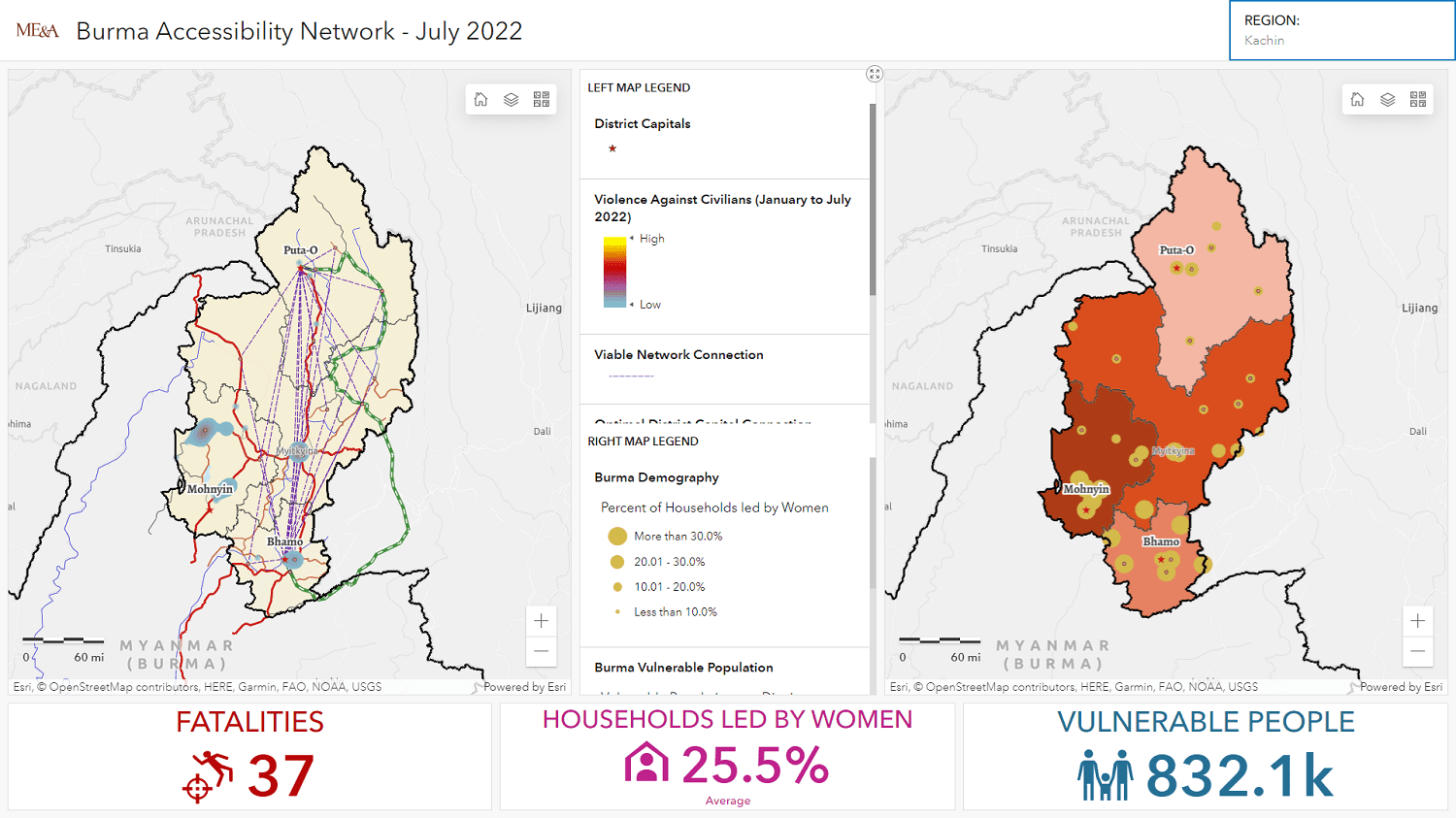 ME&A GIS Real-Time Dashboards as a Planning Tool for Routing Humanitarian Relief 
When attempting logistical operations in fluid situations (a high resolution, expandable version of the Burma photo featured above is available by clicking here), it is important to understand the full context and scope of the challenges meeting humanitarian interventions.
"Geographic information systems (GIS) brings an understanding of 'where' to international development," said Benjamin White, director of ME&A's Geospatial Technologies Group (GTG). "A primary focus of ME&A's geospatial work is to help aid agencies access and understand where and how to operate in non-permissive environments, such as conflict zones."
While the details of day-to-day operations in the field require specific tool sets at the operations management level, real-time GIS dashboards such as the one above can provide valuable insight into local to regional dynamics.
ME&A developed a network analysis to find the best routes for moving within non-permissive areas in Burma. This analysis provided insight for planning the most reliable route to move between cities in northern Burma, avoiding areas of violent incidents where fatalities have been reported. In addition, the analysis provided geographical information (through linking lines) about the towns and cities best connected for humanitarian assistance distribution without putting field workers at risk by reducing their exposure to crime and violence.
By providing this information as an interactive dashboard, decision-makers can assess needs in real-time at a territorial scale as qualified by population, specific staging centers, and violent incidents. Interaction is based on zooming in and out of the maps and filtering the geographic areas by regions.
ME&A's GTG provides geospatial services across ME&A's practice areas to enhance the design, implementation, and monitoring and evaluation of development programs. ME&A has used its GIS resources to support USAID projects and evaluations in more than a dozen countries. Integrating GIS with robust, custom solutions assists ME&A clients in making data-driven decisions to improve coordination and development outcomes. ME&A's GTG also offers technical training and capacity building in the use of geospatial technologies and practices. For more information, please contact White at (301) 652-4334.
About the Author
Latest Posts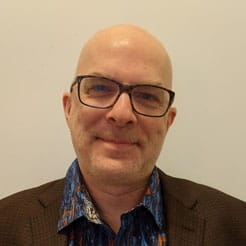 Benjamin White is ME&A's Lead Technology Solutions Strategist providing development geospatial expertise along with advanced data collection, analysis, and reporting capabilities. He is a senior geospatial and data science professional with 20 years of experience with geography, remote sensing, and GIS with sub-specialties in land use, forestry, climate, carbon accounting, and climate change policy.
Co-Author(s):