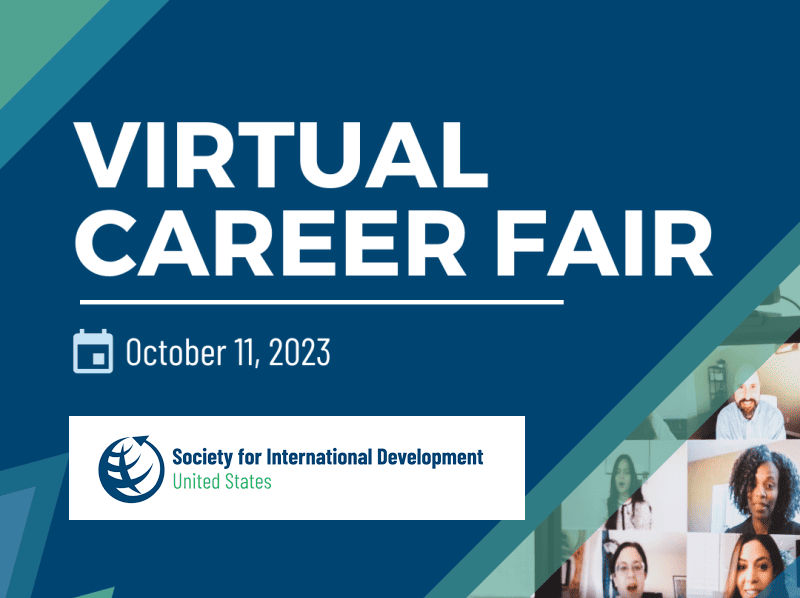 ME&A Sponsors Booth to Recruit at SID-United States Virtual Career Fair
Every year ME&A sponsors a booth to recruit top talent at the Society for International Development (SID)-United States Career Fair. The annual event will take virtually Wednesday, Oct. 11, 2023.
"I am excited to have the opportunity to meet SID-US virtual attendees, such as returned Peace Corps volunteers, veterans and members of the Armed Forces, consultants, and other global development professionals," said ME&A Director of Human Resources Lizette Laserna Salvador. "You can chat with me to learn about ME&A's job opportunities or ask me to share my experiences in international development. We can exchange information on your work experiences and career aspirations to gauge your career fit. Let's chat!"
Ms. Salvador along with Chief Operating Officer Moenes Youannis; Chief of Party for the Global Health Evaluation and Learning Support Activity (GH EvaLS) Andrea Camoens; Director of Monitoring, Evaluation, and Learning Gary Woller; and Human Resources and Administrative Assistant Dulce Alanna Lejarde will staff the booth. They will discuss with potential applicants how they can leverage their background, skills, and experience for ME&A's work for USAID, U.S. Department of State, and World Bank projects worldwide. Besides former Peace Corps volunteers, veterans and members of the Armed Forces, and consultants, ME&A also is particularly interested in recruiting college students and recent graduates for ME&A's internship program.
"As a former ME&A intern, I am glad to share my insight on what it's like working with ME&A," Ms. Lejarde said. "I have learned a lot of new skills and continue to learn more. Chat with me at the booth to learn more!"
Read more about life at ME&A and ME&A staff members and interns by clicking on the links below:
The Career Fair includes virtual panel discussions, flash talks, and flash mentoring as well as the opportunity to chat with ME&A and other organizations' recruiters. Some 800 entry- and mid-level candidates are expected to visit the career fair from more than 30 countries and many different states in the United States.
ME&A is a long-standing member of SID, a non-profit organization composed of individuals and institutions concerned with sustainable international development. The SID-Washington chapter, where ME&A has been active, rebranded last year as SID-United States or SID-US. ME&A has served as a sponsor for SID-Washington's annual career fair and annual conference for many years.
More information about the virtual job fair is available on the SID-US website.